Wells Fargo expands program with Mercyhurst
Tuesday, November 13, 2018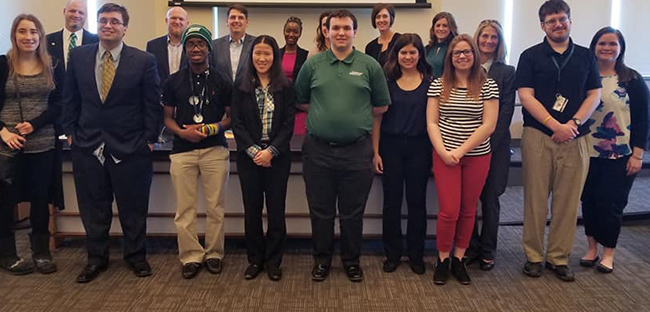 Wells Fargo returns to Mercyhurst University to provide career counseling and development support, while also speaking on its commitment to diversity and inclusion. Wells Fargo is backing up that commitment with a donation of $15,000 for the Autism Initiative at Mercyhurst (AIM). The latest visit formalizes and expands the relationship that began in April of last year, and will help to expand the pipeline into Wells Fargo for people with disabilities.  
Leading the program for Wells Fargo is Michael Riesmeyer, a wholesale credit/manager based in Boston, who visited the Erie campus last April with other Wells Fargo team members to discuss career paths with AIM students. Riesmeyer's daughter, Megan, is a sophomore in the AIM program.
Last spring's event included mentoring, resume review and mock interviews with the goal of preparing AIM students for possible career opportunities at Wells Fargo and local businesses while helping Wells Fargo team members learn how best to interact with people on the spectrum.
The reprise visit is slated for Thursday, Nov. 15, and includes an expanded agenda. A team of recruiters will meet with AIM students and with students enrolled in the university's Learning Differences Program as well as interested students from other disciplines.  
"Our goal with this program is to recruiting people with diverse abilities," said Riesmeyer, who will highlight the Wells Fargo #withalways message and commitment to hiring and cultivating leaders with disabilities.
Riesmeyer also noted that opportunities abound which this company, which employs more than 250,000. "We want to create relationships with other departments at Mercyhurst for those students to connect with us, too," he said.
Joining Riesmeyer at Mercyhurst will be Wells Fargo's Jose L. Garcia, Sr. VP, Diversity Talent Acquisition Leader, who heads the company's efforts to recruit people with disabilities (https://www.wellsfargojobs.com/disabilities). Also attending are Monica Victorino, Talent Acquisition Diversity Strategy Leader, Michael Bohley , Exam Manager, and Tyler Leech, Operations Processor.  
As part of the daylong visit, Wells Fargo will present a check for $15,000 to Mercyhurst President Michael T. Victor and AIM Director Brad McGarry to support the AIM program.
"We at Mercyhurst have long sought to galvanize change through partnership and we are indebted to Wells Fargo for their interest, their commitment and their ongoing support aimed at engaging autistic adults for long-term meaningful employment," said President Victor.
In 2008, Mercyhurst introduced AIM to meet the unique needs of the growing numbers of college students diagnosed with Autism Spectrum Disorders (ASD).  AIM focuses on building a foundation of self-advocacy, social skills and sound academic progress. The program has grown considerably in recent years, particularly with the addition of a career services component to help AIM graduates be productive and successful beyond college.
FILE PHOTO from April 2018 Wells Fargo visit to Mercyhurst.