Applause!
Thursday, December 06, 2018
Duncan E. McGill, Ph.D., dean of the Ridge College of Intelligence Studies and Applied Sciences, addressed the bipartisan National Blue Ribbon Study Panel on Biodefense at the Hudson Institute in Washington, D.C., on Nov. 14.  
Kristan J. Wheaton, J.D., professor of intelligence studies, was among 11 thought leaders and practitioners inducted into the Council of Competitive Intelligence Fellows recently in Chicago. The new Fellows span the commercial, education and not-for-profit sectors. Read more.
Senior Margaret Hackney of Hermosa Beach, California, who crossed the country specifically to study intelligence at the Ridge College of Intelligence Studies and Applied Sciences, is among 28 students nationwide to share in a scholarship distribution of more than $126,000 from the United States Geospatial Intelligence Foundation (USGIF). Read more.
Art therapy students Erin Jenkins, Julia Detota and Morgan Karcher, alumna Erin McCall and instructor Heather Denning presented at the American Art Therapy Association's Annual Conference in Miami, Florida, on Nov. 3. "Planting the Seeds of Art Therapy: Service Learning in Undergraduate Education" shared the program's service learning experiences within the Erie community and abroad in Nepal and how they shaped learning about art therapy and serving others.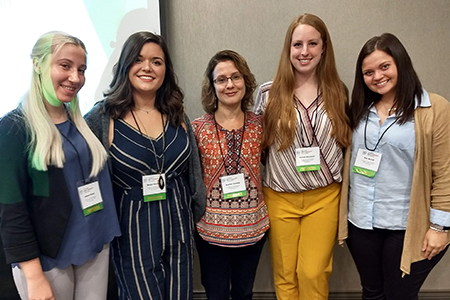 Dr. Adam Saeler, assistant professor of criminal justice, and his crime prevention class hosted members of the Erie Police Department's command staff as part of their term-long project to investigate mapped crime data throughout Erie. The students received maps of actual incidents in Erie early in the fall term and were tasked with investigating the locations of the crime and developing a plan to combat crime in their assigned locations. The students presented their findings to Chief Spizarny, Deputy Chief Nolan, Captain Lorah, Sergeant Mitchell, and Amy Eisert, director of the Mercyhurst Civic Institute. The outside audience members noted that the presentations were comprehensive and professional.

Averill Earls of the Department of History presented her paper, "'I could see his penis quite clearly': Police and Sexuality in Twentieth-Century Dublin," at the New York State Association of European Historians, held at D'Youville College on Oct 6. During the business meeting also held that day, Averill accepted an appointment to the Board of Directors of NYSAEH. On Oct. 27, Averill presented preliminary findings on a new research project examining juvenile reform institutions known as "Borstals." Her paper, "Recommended for Borstal: British Moral Reform of Juvenile-Adults in Ireland and Kenya," was presented at the annual meeting of the North American Conference on British Studies held in Providence, Rhode Island. 
Students in Mary Gavacs' Occupational Therapy Assistant (OTA) Pediatric Interventions class provided childcare services for the Northwestern PA Autism Society's Autism in Our Community event held at Penn State Behrend. To allow parents and caregivers the opportunity to attend the sessions, childcare is provided for children ages 3-18. Students from the class of 2019 (Bridget Bumanlag, Ashley Cooley, Autumn Francis, Anna-Marie Labowski, Jessica Miles and Alexis Pringle) organized developmental activities that focused on motor and cognitive skills, and a quiet room for children in need of a less stimulating environment. Students from the class of 2020 (Catherine Brennen, Mikayla Conant, Erika Hansen, Courtney Mealy, McKenzie Miller and Amy Steele) provided additional support.
Over the first weekend in November, Averill Earls and Sarah Handley-Cousins, her colleague from Dig: A History Podcast, took 12 Mercyhurst History Club students to Gettysburg, Pennsylvania. The students explored the new state-of-the-art Gettysburg National Military Park Museum, took guided tours of the National Cemetery and the battle site of Little Round Top, took a ghost tour of the city, and visited the David Wills House. Handley-Cousins, a clinical assistant professor of history at the University at Buffalo, has a book forthcoming from University of Georgia Press on disability and the American Civil War.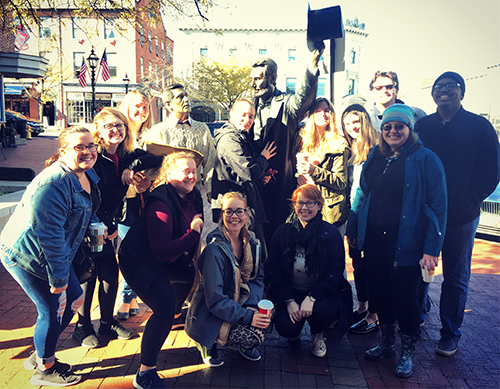 Averill Earls was accepted to the National Endowment for the Humanities workshop "Sustaining Digital Humanities" to be held at the University of Pittsburgh on Dec. 10 and 11. Averill and her podcasting colleague, Sarah Handley-Cousins, will bring Dig: A History Podcast to the workshop to discuss roadmapping the sustainability of the project, regarding everything from its digital existence and indexability, to growing the show's audience and financial viability. 
Dr. Edward A. Jolie (Anthropology/Archaeology) delivered an invited paper presentation titled "An Agenda for Future Perishable Artifact Research in the Great Basin" during the plenary session at the 36th Great Basin Anthropological Conference in Salt Lake City, Utah, on Nov. 8. While attending the meetings, he caught up with former student Libby Goldberg '17, who was in town for the conference and collecting data for her master's thesis research through the University of Alberta, Edmonton. Together they were able to examine artifact collections at the Natural History Museum of Utah and the BYU Museum of Peoples and Cultures and generate data that Libby will be able to use for her thesis project. Work Libby did with Jolie for her undergraduate thesis was recently published. View it here.
All participants of the Women with Children Program at Mercyhurst North East participated in a Women's Self Defense Course in the campus wrestling room on Nov. 16. The hands-on training lesson, taught by the White Dragon Martial Arts Gym of North East, instructed the women through abduction scenarios and how to break free from a perpetrator.