Mercyhurst eyes inaugural cohort for new cyber programs
Tuesday, April 03, 2018
Two cutting-edge cyber programs slated to begin this fall are now accepting applications. 
Mercyhurst's new master's degree programs in Cyber Security and Cyber Risk Management will look to address the global rise in cyber crime, as well as the vulnerabilities of online environments and networks of interconnected devices. In order to maximize availability, these 36-credit programs are offered online.
Keeping in the tradition of the university's internationally respected intelligence studies program, these two programs, housed in the new Department of Computing & Information Sciences in the Ridge College of Intelligence Studies and Applied Sciences, will prepare graduate students for careers in some of today's most rapidly growing fields.
The approval of these programs comes on the heels of the announcement of an exciting new partnership with Cleveland State's Marshall Law School and Case Western Reserve University. The three institutions are launching the North Coast Cyber Research and Training Alliance to propel advances in cyber education. 
The launch of these programs will also coincide with the opening of Mercyhurst's new cybersecurity lab and network operations center, funded in large part by the Cleveland-based national technology company MCPc.
"We've been considering adding cyber-related programs for quite some time," said Duncan McGill, Ph.D., dean of the Ridge College (at right). "With all the pieces coming together, including the launch of the Erie Innovation District, the construction of our own cyber lab, and the support of several corporate partners including MCPc and Erie Insurance, the opportunity to begin educating and training students in the fields of cyber security and cyber risk management has finally arrived."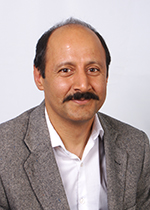 The Cyber Risk Management program, formally called the F.W. Hirt Erie Insurance Cyber Risk Management Program, is made possible through the generosity of Betsy Hirt Vorsheck, a 1977 graduate of Mercyhurst and a board member of Erie Insurance. Vorsheck is the daughter of F.W. Hirt, longtime CEO and Board Chairman of Erie Insurance and trustee of Mercyhurst University, and Audrey Sitter Hirt '49, after whom the Audrey Hirt Academic Center at Mercyhurst is named.
The university expects applicants to come from several different populations, including its own current undergraduates and alumni of the intelligence studies bachelor's program.
Afzal Upal, Ph.D., chair of the Department of Computing & Information Sciences, (at left) emphasizes that while "cyber" is in the titles of these programs, students lacking programming experience or computer-based bachelor's degrees need not fear. "We'll be building our students from the ground up, giving them the tools they need to excel in this field," said Upal. "While prior computer programming experience would be helpful, it is not necessary."
Those interested in either program can visit mercyhurst.edu/grad to learn more about the programs, request more information or apply online.
"There is nothing quite as exciting as recruiting the first cohort for a new program. Those students are the pioneers. They're the ones who will help make our cyber programs reputable right from the start," said Travis Lindahl, director of graduate and continuing education. "They'll have the chance to add to Mercyhurst's long history in the disciplines of intelligence gathering and analysis, and they'll be among the most sought-after graduates in the cyber fields."