Gov. Ridge, Rep. Kelly on hand as Mercyhurst University unveils high-tech MCPc Cyber Education Center
Thursday, August 02, 2018
Sometimes a mere adjective or two or three can't get the job done.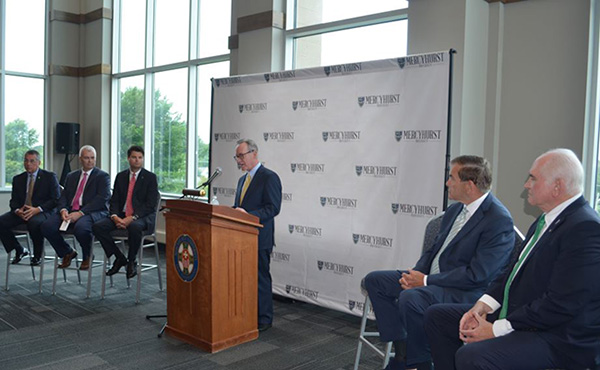 Even a photo can be lacking. In the case of the new MCPc Cyber Education Center at Mercyhurst University, the full import of this space can only be captured up close and in person.  
A gathering of more than 200 invited guests, including former Pennsylvania Gov. Tom Ridge and U.S. Rep. Mike Kelly, came to see for themselves on Thursday, Aug. 2, at 10 a.m. when the center officially opened. They were greeted first by a presentation that included remarks by Kelly and Ridge, the first Secretary of Homeland Security after whom the Ridge College of Intelligence Studies & Applied Sciences at Mercyhurst is named.
Guests also heard from Mercyhurst President Michael Victor, MCPc CEO Andy Jones and Erie Insurance President and CEO Tim NeCastro, all of whom spoke to the power of partnership and how it is helping to advance their respective institutions as well as the City of Erie. Mercyhurst also welcomed a special guest in Jeff Pon, director of the U.S. Office of Personnel Management, who had come to learn more about the university's cybersecurity program and its facilities.
Tours of the new cyber center followed as did a light brunch.
"Sometimes a building is just a building – four walls, a floor and ceiling," said President Victor. "In this case, our new cyber center is an altogether innovative environment that through design, lighting and glass aims to stimulate and inspire students studying cybersecurity as well as student-employees who will be working at the center."
Keyman Asefi, an instructor with the Mercyhurst Department of Interior Architecture and Design who designed the unique space, put it this way: "The sleek look of diagonal lines promotes movement throughout the facility, transforming the speed of a cyber-attack into an architectural element. Diagonal glass replaces interior partitions to increase internal interaction. And the angled furniture, too, complements the overall high-tech look."
The center houses a teaching lab featuring 20 work stations. Intelligence studies majors, data science majors, students studying cybersecurity and those enrolled in the new F.W. Hirt-Erie Insurance Risk Management Program at Mercyhurst University, thought to be the first cyber-focused risk management program in the United States, will all benefit.
But that's only the half of it. The space also houses a Secure Operations Center (SOC), where 16 Mercyhurst students will be paid at industry rates to work with real MCPc clients.
MCPc is a national technology company specializing in IT functionality and cybersecurity; it is headquartered in Cleveland with offices in Erie and is a partner in the Mercyhurst-led Erie Innovation District. As such, MCPc and Mercyhurst are in a position not only to produce sought-after graduates and employees but to fundamentally redevelop Erie's economy and further support Erie area businesses.
MCPc invested $1 million in the $1.5 million cyber project. Among the other significant donors are the George I. Alden Trust, Hewlett-Packard, KeyBank Foundation and the Lui Damasceno Family.
Ridge College Dean Duncan McGill will oversee the academic operation, while MCPc employee Rob Lavin will supervise the SOC. Operations begin with the start of fall semester Aug. 22.
"The new cyber lab provides students an opportunity to experience cyber problems in real time," explained McGill.  "The environment serves as a 'sandbox' allowing faculty to design complex multi-variable virtual networks complete with malware problems where students gain knowledge through experiences not available in normal classroom-based network operating environments. 
"Using analytical tools, students learn to measure these networks, analyze their problems, and develop, prioritize, and execute cybersecurity solutions.  Because of the lab's specially designed network and video capabilities, the problems can be completed individually, in teams, or as a class, and in every case the students or faculty member can demonstrate their working analysis and solutions for others via video presentation."
In addition to Asefi's design, Kidder Wachter Architecture & Design of Erie served as the architect of record; and Frontier General Contracting did the construction work. 
"We could easily have erected the walls and installed computers; instead we wanted a design that would remind people that Mercyhurst University is serious about cybersecurity and the role that it can play in our city's resurgence," said Cal Pifer, vice president for external relations and advancement at Mercyhurst, who has played an integral role in the project, along with David Myron, vice president for finance and administration."
For more on Mercyhurst's cyber education programs, click here.
PHOTO: Mercyhurst University President Michael Victor, at podium, welcomes guests to the grand opening of the MCPc Cyber Education Center. From left are Erie Insurance CEO Tim NeCastro, MCPc CEO Andy Jones, Mercyhurst VP for External Relations & Advancement Cal Pifer; Gov. Tom Ridge and U.S. Rep. Mike Kelly.