Zapolski says 'emotion' at work for Team USA
Tuesday, January 23, 2018
When Erie's own Ryan Zapolski takes the ice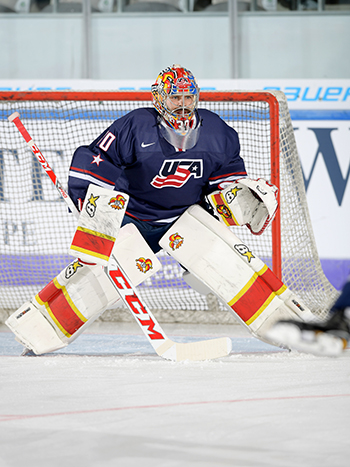 as a U.S. Olympian this February in Pyeongchang, South Korea, his past will go with him in a very tangible way; that is, if he has his way.
"I always try to add something from my past on my helmets so, of course, I will try to include something from Mercyhurst and Erie on my mask for the Olympics," he said during a recent interview from his home in Helsinki, Finland. He also maintains a house in Millcreek Township. (Zapolski had requested graphics of the Mercyhurst hockey logo and the City of Erie seal to be painted on his helmet. It was unclear whether Olympic regulations would permit it, but Zapolski insisted he would try.)
When the National Hockey League (NHL) elected not to participate in the 2018 Winter Olympics, it opened the door for lesser-known players to emerge, among them four college players, three from the American Hockey League and 15 playing in professional leagues across Europe.
Zapolski, who played for Mercyhurst from 2007-11, and currently plays for Finland-based Jokerit in Russia's Kontinental Hockey League (KHL), was the first player recruited for the goaltender position on Team USA.  Recently, goalies David Leggio and Brandon Maxwell were added to complete the roster. News stories report Coach Tony Granato as saying that Zapolski has all the tools to be America's starting goalie.
Zapolski got a late start in youth hockey, not in the crease until age 11. Like so many aspiring young players, he was convinced he would make the NHL some day. "As you get older, you realize how difficult it really is," he said. "The hockey world is extremely competitive and as a goalie there is always somebody who wants to take your job."
Being an Olympian seemed as remote a dream as any. "I never really believed I would be an Olympian, but I thought it would be amazing to experience, especially after seeing the movie 'Miracle on Ice.' But when you get into professional hockey and see how many great players there are, it seems so far away."
And, yet, here it is.
"It is going to be really emotional for most of the guys there,
so that is an advantage I think we will have as Americans."
- Ryan Zapolski
"From a fan's perspective I'm sure there is some disappointment that the NHL isn't participating but, for guys like me, it is a once-in-a-lifetime opportunity," Zapolski said. "I think that is something that we will all use as motivation – to not let a chance like this go to waste. It is going to be really emotional for most of the guys there, so that is an advantage I think we will have as Americans."
Zapolski said he is thankful for all the support he has received over the years, especially from his parents, Raymond and Susan, brothers Brandon and Chris, sister Lindsay, and his wife, Elizabeth Fisher. Ryan and Elizabeth were high school sweethearts and attended Mercyhurst together, he graduating with a Biology degree, and she, a degree in Marketing. They were married in the university's Christ the King Chapel on Aug. 1, 2015.
Zapolski also credits former local coaches Pete McCormick (Cathedral Prep) and Gary Peterson Sr. (youth hockey) as well as Mercyhurst Men's Hockey Coach Rick Gotkin and former associate coach Bobby Ferraris for their help and inspiration.
Said Gotkin, "Ryan is very laid back, and has the perfect makeup for a goaltender. Not much seems to bother him. Yes, he loves to win, and will compete like crazy on every shot. But, at the end of the day, if a puck finds its way behind him, he flushes it right away and is focused on the next shot."
Ferraris, who is associate admissions director and varsity hockey coach at Trinity-Pawling School, calls Zapolski a "phenomenal" goalie. "Ryan has the potential to be one of the best goalies in the Olympics, if not the best," he said. "Rick (Gotkin) and I watched him just get better and better at Mercyhurst, and then after graduation with the East Coast Hockey League (ECHL), where he won all kinds of awards. I remember Rick and I were like, 'Oh my God, look at Ryan! He's amazing!'"
In playing for the KHL, which Ferraris called the European Super League, he's continuing that same upward trajectory as a professional.
In an email, Zapolski reflected on his time at Mercyhurst. "You really don't begin to learn about yourself and what type of person you want to be until you are faced with real responsibilities and you usually don't get that until college," he said. "Mercyhurst was the perfect place for me for a few reasons. First the location. I could be close to home and also live on campus and become independent. Second for me was the size of the school. I think sometimes at bigger schools you can feel lost and seem like just another student, but Mercyhurst always felt like a welcoming place where everyone genuinely wanted you to succeed. And hockey was just a bonus for me. I wanted to play at the highest level possible, but knew at that time that getting a college degree was just as important."
After graduating, Zapolski started his pro career with the ECHL, during which he was named Rookie of the Year, Goaltender of the Year and First Team All-Star. He was just the second player to win all three, plus MVP, in a single ECHL season. Determined to play at the highest level, he traveled overseas and was signed by the Finnish pro team, Lukko, where he spent a couple seasons before jumping to Jokerit and leading the team to a 15-game win streak last year.
He sums up his feelings this way: "I am honored to have the chance to play for our great country and carry on such a strong hockey tradition. Being able to represent Erie and Mercyhurst is really special to me and I hope it can inspire future generations of kids to really believe in their goals and to never give up on your dreams!" 
(See complete bio and stats here.)