Youngest of Little Rock Nine to share her story
Tuesday, March 20, 2018
Civil rights leader and National Women's Hall of Fame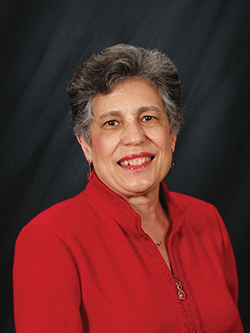 inductee Carlotta Walls LaNier shares her personal story of perseverance and strength during this year's Charlene M. Tanner Speakers Series at Mercyhurst University.
As the youngest member of the historic Little Rock Nine, a group of nine black students that integrated Central High School in Little Rock, Arkansas, in 1957, LaNier brings to life a moment in history that changed the world while inspiring hope for the future.  A sought-after lecturer, LaNier has spoken all over the country at colleges and universities, women's and African American organizations, libraries and civic groups. She will take the stage of the Mary D'Angelo Performing Arts Center (PAC) on Tuesday, April 3, at 7 p.m.
Her lecture is free, but tickets are required. Tickets became available at the PAC box office for Mercyhurst students on March 19, and will be available to the rest of the Mercyhurst community March 21. The general public may obtain tickets starting March 26. There is a limit of one ticket per student and two tickets apiece for all others. PAC box office hours are noon to 5 Monday through Friday.
Carlotta Walls was just 14 when she faced angry mobs, racist elected officials, and federal intervention by President Dwight D. Eisenhower, who was forced to send in the 101st Airborne to escort the Nine safely into the building. Little did she realize that day that this was the beginning of a journey that would challenge prevailing attitudes, break down barriers, and forever change the social landscape of America. 
After graduating from Little Rock Central High School in 1960, she attended Michigan State University and graduated from Colorado State College — now the University of Northern Colorado, which has since awarded her an Honorary Doctorate of Humane Letters and on whose board of trustees she sits. 
In addition to receiving the Congressional Gold Medal and the NAACP's Spingarn Medal, awarded to her as a member of the Little Rock Nine, LaNier is an inductee in the Colorado Women's Hall of Fame, Girl Scouts Women of Distinction and the National Women's Hall of Fame. She serves as president of the Little Rock Nine Foundation, created to promote equality of opportunity for all, particularly in the field of education.
Besides sharing her story through lecture, she has also written about it in A Mighty Long Way: My Journey to Justice at Little Rock Central High School.
For more information on LaNier's Mercyhurst appearance, call 814-824-3000.
This event is being gifted in memory of Charlene M. Tanner by her loving partner Doris Cipolla. Because of their shared interests in social justice, peace and the environment, it is hoped that this program will inspire others to help create a healing environment for the world.