Writer Kate Hennessy shares stories of Dorothy Day
Monday, October 01, 2018
Writer Kate Hennessy will discuss the life of Dorothy Day –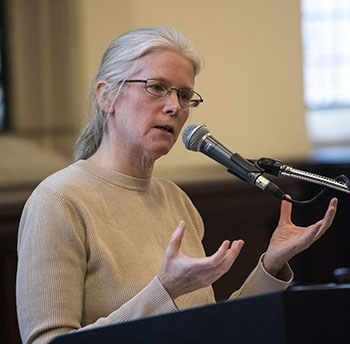 the journalist, social activist and Catholic convert best known as the co-founder of the Catholic Worker Movement – in an appearance at Mercyhurst University on Tuesday, Oct. 9. Her talk at 7 p.m. in the Mary D'Angelo Performing Arts Center is sponsored by the William C. Sennett Institute for Mercy and Catholic Studies and is free and open to the public.
Hennessy, the youngest of Day's nine grandchildren, is the author of Dorothy Day: The World Will Be Saved by Beauty, described as "an intimate portrait of my grandmother." The book won a Christopher Award for helping to "affirm the highest values of the human spirit," and the Chicago Tribune named it the best spiritual writing of 2017. Hennessy also collaborated with photographer Vivian Cherry on Dorothy Day and the Catholic Worker: The Miracle of Our Continuance.
Hennessy attended New York University and the School for International Training in Vermont. She has traveled and worked around the world, including at an international summer camp in the former USSR and as an ESL teacher in Guatemala and with Tibetan refugees in India. She walked 750 kilometers on el Camino de Santiago in Spain. Her work has appeared in Best American Travel Writing.
Dorothy Day founded the Catholic Worker Movement with Peter Maurin in 1933 in New York City, following her conversion to Catholicism in 1927. The Movement remains active today. Its website describes its origins: "Grounded in a firm belief in the God-given dignity of every human person, their movement was committed to nonviolence, voluntary poverty, and the Works of Mercy as a way of life. It wasn't long before Dorothy and Peter were putting their beliefs into action, opening a 'house of hospitality' where the homeless, the hungry, and the forsaken would always be welcome. Over many decades the movement has protested injustice, war, and violence of all forms. Today there are some 228 Catholic Worker communities in the United States and in countries around the world."
Day remained active in the Catholic Worker Movement until her death in 1980 at the age of 83. 
She has been proposed for sainthood in the Catholic Church and is currently designated a Servant of God. She was one of four "great Americans" singled out by Pope Francis when he addressed the U.S. Congress in 2015.
Dr. Mary Hembrow Snyder, director of the Institute for Mercy and Catholic Studies at Mercyhurst, said she is excited to bring Kate Hennessy to Erie to discuss her powerful book about her grandmother.
"Dorothy Day and the Catholic Worker movement she co-founded with Peter Maurin reflect the deep gospel values of Jesus, the key critical concerns of the Sisters of Mercy, and the fundamental principles of Catholic Social Teaching, namely, commitment to the poor and the marginalized, to nonviolence, and to the dignity of every human being," Snyder said.
For more information contact Snyder at msnyder@mercyhurst.edu.