Vienna Boys Choir evokes magic of the season
Thursday, November 08, 2018
Nothing evokes the joy and magic of the season like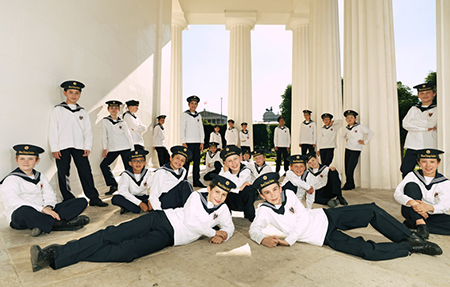 the celestial voices of the Vienna Boys Choir performing everything from Gregorian chant to popular holiday favorites from around the world.
Those celebrated voices will carry their holiday tune to Mercyhurst's Mary D'Angelo Performing Arts Center on Monday, Nov. 26, as part of the Mercyhurst Institute for Arts & Culture's 2018-19 MIAC Live Series.
With a rich history dating back more than 500 years, the collective was the result of Maximilian I moving his court to Vienna in 1498.
Today, there are 100 choristers between the ages of 9 and 14 divided into four touring choirs. Each choir spends nine to 11 weeks of the academic year on tour, and together, give around 300 concerts each year, attended by half-a-million spectators around the world.
The choir's repertoire includes everything from medieval to contemporary music. Motets and lieder form the core of the touring repertoire, as do the choir's own arrangements of Viennese music. The choir also performs children's operas and world music.
On Sundays, the boys perform with members of the Vienna Philharmonic Orchestra and the Vienna State Opera Chorus in Vienna's Imperial Chapel, as they have done since the choir's inception. In 2012, the choir opened its own concert hall, MuTh, a state-of-the-art facility that seats 400.
Over the centuries, the choir has been associated with many of the world's greatest composers, claiming Haydn and Schubert as alumni, and having collaborated with the likes of Mozart and Bruckner. They are frequent partners with major orchestras, such as the Vienna Philharmonic Orchestra, the Vienna Symphony Orchestra, the Staatskapelle Berlin, the Oslo Philharmonic, the Pittsburgh Symphony Orchestra, conducted by Riccardo Muti (honorary member of the Chapel Imperial), Andrés Orozco Estrada, Christian Thielemann and Simone Young. 
In 1907, the boys produced their first sound recording on a wax cylinder. Since then, they have recorded 43 shellacks, 55 singles, 128 LPs and 150 CDs on every major label. The choir has also been a part of 26 films and 17 television documentaries.
Tickets for the Vienna Boys Choir concert are $30 for adults, $25 for seniors and $20 for students and youth 12 and younger. Tickets can be purchased at miac.mercyhurst.edu or by calling the box office at 814-824-3000.
This performance is sponsored by Lincoln Recycling and WQLN. The 2018-19 MIAC Live series is made possible through the generosity of Scott Enterprises, Cumulus Media and the Erie County Gaming Revenue Authority.