Victor celebrates service of longstanding employees
Thursday, April 12, 2018
Mercyhurst University today celebrates 65 employees marking service anniversaries,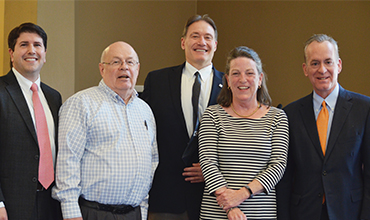 with three rising to the top of the class: Hospitality Management Chair Daryl Georger with 35 years of service, Institutional Research Director Sheila Richter with 40 years, and Chair of Mathematics and Information Technology Don Platte with 45 years.
President Michael Victor welcomed the opportunity to celebrate the faculty, staff and administrators for their years of hard work and dedication. "All of you here represent the very best of this institution, and your impressive records of service merit our highest praise," he told the group assembled in Mercy Heritage Room for a 3:30 p.m. reception.
He spoke specifically to the three employees with the most service, starting with Georger, who he commended for helping to build the hospitality and culinary programs at Mercyhurst and Mercyhurst North East. However, he concentrated on Georger's ability to network and create opportunities on behalf of his students.
"Helping students find success at Mercyhurst – as well as after-Mercyhurst – is a passion for Daryl," Victor said. "And what's really special is that it doesn't stop with Daryl. He teaches this kind networking and nurturing to all his students, so that what he does for them, they do for others."
Next he spoke about Richter, who graduated from Mercyhurst in 1977 "and never left." He also relayed comments from her first boss, former Admissions Director Dr. Andy Roth, who called her "invaluable" to the Admissions operations at that time.
Whether working in admissions, financial aid or in her current role overseeing institutional research, Victor said Richter has been unflinching in her commitment to Mercyhurst. Her friends say that when it comes to her life on the Hill, she lives by one golden rule: "Everything for the good of the institution."
And of Platte, Victor said, "Lest anyone doubt it, Don is a diehard Mercyhurst man. Forty-five years later, he's still on campus days, nights and weekends. He might be tightening the bolts on the chairs in the math lab, or watching one of his students on the basketball court, or entertaining the children of his colleagues in the stands at our hockey games. Last summer, I'm told he spent hours upon hours in the library researching the history of the math department, which evolved seismically under his leadership."
He also credited Platte with bringing the Internet to Mercyhurst and for singlehandedly developing the computer programming curriculum years ago.
This marks the third annual employee service recognition event of the Victor administration.
PHOTO: Provost David Dausey, left, and President Michael Victor, right, congratulate long-serving Mercyhurst employees Don Platte (45 years), Daryl Georger (35 years) and Sheila Richter (40 years).