Two Mercyhurst ROTC cadets earn full scholarships
Thursday, September 13, 2018
Two ROTC cadets - sophomore Nathan Brand and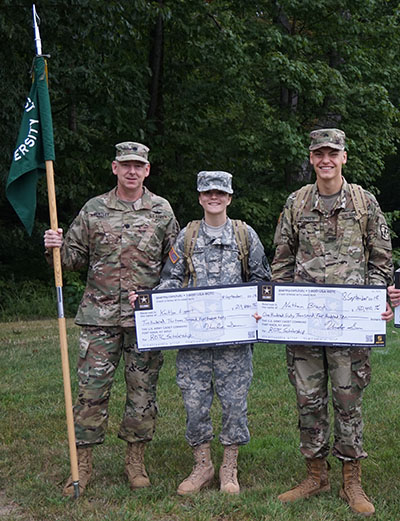 freshman Kaitlyn Lippert - were honored Saturday, Sept. 8, with full scholarships to complete their studies at Mercyhurst University, according to Raymond E. Patterson, Scholarship & Enrollment Officer, 2nd Brigade ROTC.
The ROTC scholarship provides full college tuition and mandatory educational fees for three and four years, respectively. It will also provide an allowance for textbooks, school supplies, and required equipment. 
"The really great thing about these scholarships is that when the cadets graduate, they will have more to show for their college days than just a diploma; they can have the confidence, self-discipline, and leadership skills that come with having earned a commission as an Army officer," Patterson said.
Lippert is from Clay, New York, and is majoring in intelligence studies. Her career plans are to work in the intelligence or cyber security fields. She enrolled in the Army ROTC program inspired by her grandfathers who served in the Army during World War II and the Korean War.
"I feel my purpose in life is to protect and serve the people of our country," Lippert said. "Protecting our freedom is something I have always dreamed of doing."
In terms of the scholarship, she added, "It is an honor to have received. I won't have to worry about student loans and having to graduate with debt because of it."
Brand, a sophomore intelligence studies major from Buffalo, is equally gratified to receive the scholarship that will help achieving his goals all the more attainable.
"I feel as though my moral compass aligns strongly with the goals and values of the United States Army and that ROTC is the perfect way for me to participate," he said.
Brand's career goal is to work for the FBI as a special agent. "I feel as though ROTC is an excellent stepping stone into federal law enforcement," he added.
"ROTC is a demanding and challenging complement to traditional college courses," Patterson noted. "The standards for admission into this program are quite high – as they must be since individuals who complete this training are to be ultimately entrusted with the lives of American soldiers." 
To learn more about ROTC and military science at Mercyhurst, view here.
PHOTO: (L-R) Lieutenant Colonel Michael P. Bentley with Cadet Kaitlyn Lippert and Cadet Nathan Brand