Turtle Island Quartet fuses classical with contemporary
Thursday, February 22, 2018
Two-time Grammy Award-winning Turtle Island Quartet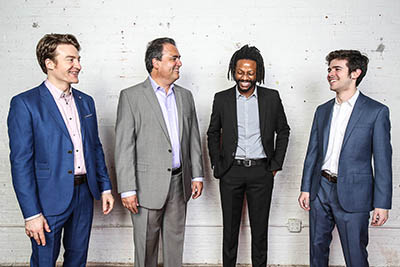 will pay homage to a jazz trailblazer when it presents "Bird's Eye View: The Legend of Charlie Parker" at Mercyhurst University's Walker Recital Hall on Thursday, March 15, at 7:30 p.m.
In this high-flying program presented by the Mercyhurst Institute for Arts & Culture, iconic Parker classics, such as "Ornithology," "KoKo" and "Dewey Square," are juxtaposed with original responses by quartet members and intertwined with other thematic pieces from the bebop era and beyond. Grammy-nominated composer and violinist David Balakrishnan will also contribute his newly commissioned work, Aeroelasticity: Harmonies of Impermanence.
Taking its name from the creation mythology found in Native American folklore, Turtle Island has been a singular force in the creation of bold, new trends in chamber music for strings since its inception in 1985, and first album, Turtle Island String Quartet, in 1988. Since then, it has released 17 additional albums and was the winner of the 2006 and 2008 Grammy Award for Best Classical Crossover category.
With its versatility regarded among its many strengths, the group fuses the classical quartet aesthetic with contemporary American musical styles. Yo-Yo Ma has called Turtle Island "a unified voice that truly breaks new ground – authentic and passionate – a reflection of some of the most creative music-making today," while the Los Angeles Times described their catalogue as "a sterling example of first-rate jazz music-making."
Tickets are $20 for adults, $15 for seniors and $10 for students and youth 12 and younger. Tickets can be purchased online at miac.mercyhurst.edu or by calling the box office at 814-824-3000.
The 2017-18 MIAC Live season is made possible through the generosity of Dr. & Mrs. Robert Guelcher, Cumulus Media and the Erie County Gaming Revenue Authority. The performance is sponsored by PNC, Christian Brothers Services and Happi 92.7.