Trustees gather for Mercy Heritage Room dedication and student social
Wednesday, February 12, 2020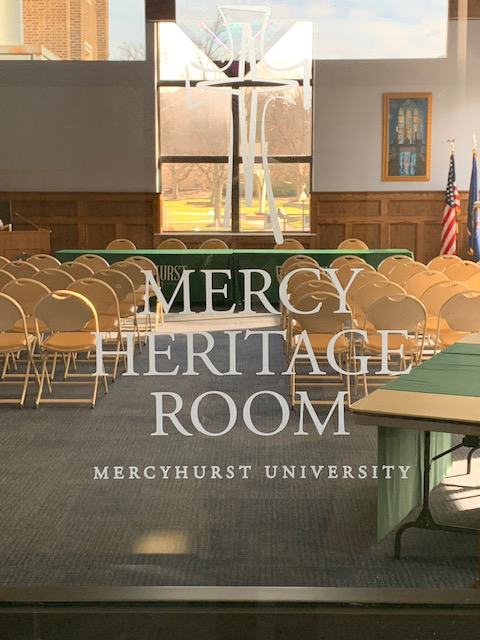 Two special events are planned in conjunction with this weekend's quarterly meeting of the Mercyhurst University Board of Trustees: a dinner and dedication of the newly remodeled Mercy Heritage Room on Friday evening, and a Trustee & Student Social the following day at noon in the Center for Academic Engagement (CAE).
Mercy Heritage Room, which is situated in Sullivan Hall, is one of the university's prime meeting halls, home to lectures, presentations, social gatherings, media events, and more. Its beginnings date back to the 1990s and the installation of two stained glass windows: one illustrating the college seal, and the other depicting the founding of the House of Mercy on Baggot Street in Dublin.  
Both art works evoke the university's roots and ultimately led to naming the space Mercy Heritage Room. At the time, Sister JoAnne Courneen, RSM, then president of the Erie Sisters of Mercy, said, "This college has changed a great deal over the years, but its spirit – which is what makes it unique – has not, and that is what we are celebrating with the creation of Mercy Heritage Room."
With the passage of time and frequent use, the room began to show signs of wear and tear, prompting university President Michael Victor to have it restored to its former glory. That effort was funded, in part, by a gift from Erie attorney Patrick Delaney and his wife, Candyce. Delaney is the great nephew of Mother Borgia Egan, RSM, the first president of Mercyhurst University. 
Highlights of the revitalized space include rich-hewn inlaid paneling designed by Mercyhurst Master Carpenter Dan Barricklow. The cathedral ceiling is highlighted by wooden beams and three traditional brass chandeliers, while brass wall sconces provide extra light and elegance. The room's two stained glass windows are accented by new lighting, while window treatments in blue silk soften the surroundings. A new bathroom has been added to the entrance hall and the existing bathroom has been updated with new flooring, granite countertops, and antique mirrors that bring in a touch of old-world charm.  
On Saturday, Trustee Lev Kubiak and Vice President for Student Life Laura Zirkle, along with the Student Life Committee of the Board of Trustees, will host a Trustee-Student Social on the first floor of the CAE from noon to 1:30 p.m.
"The gathering is an opportunity for students to meet and discuss issues of importance to them with members of the board," Zirkle said. "It is also a chance for our trustees to have face-to-face engagement with a cross-section of students: freshmen to seniors, adult and traditional students, and representatives from both our Erie and North East campuses.  Everyone looks forward to this special occasion."