Tom Ridge to deliver keynote address at Mercyhurst's international intel forum
Monday, June 03, 2019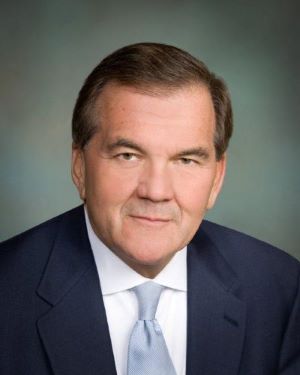 Governor Thomas J. Ridge pays a return visit to his namesake institution—The Ridge College of Intelligence Studies and Applied Sciences at Mercyhurst University—when he opens the inaugural Intelligence Community Forum (ICF 2019) on Tuesday, June 18. Ridge will deliver the keynote address focused on the conference theme of "Intelligence Support for Decision-Makers" at 1 p.m. in Walker Recital Hall.
More than 60 delegates are expected to attend the June 18-20 international forum, hosted by the Ridge College and Brécourt Academic in association with Global War Studies. Ridge College Dean Duncan McGill said the combination of intelligence community professionals, scholars, and students is intended to create a vibrant mix of thought leadership and best-practice strategies.
Papers, presentations, and panel discussions will highlight such compelling topics as "The Challenges of Attribution within Cyber Space," "Mitigating Terrorism and Transnational Crime Links," and "Improving Information Evaluation for Intelligence Production."
Ridge College faculty, including Drs. Afzal Upal, Christopher Mansour, and Mahesh Maddumala, will host panels on cyber security and data science.
"As the oldest and largest academic intelligence enterprise in the United States, Mercyhurst is honored to take the lead in hosting this important learning and networking opportunity," said Mercyhurst President Michael T. Victor. "In recent years, we have leveraged our expertise and reputation in intelligence studies to the fields of data science and cyber security.  In addition to developing cutting-edge curricula, we opened a topflight cyber education center on campus in 2018, enabling us to provide unparalleled, hands-on instruction in today's most dynamic fields. It is out of this thriving enterprise that we are pleased to host ICF 2019."
"We are delighted to be working with our colleagues at Mercyhurst University and, as co-organizers of the conference, we look forward to developing the ICF into a must-attend annual event for the international intelligence community," said Robert von Maier, Publisher and Editor-in-Chief for Brécourt Academic.
Conference delegates hail from various international institutions, including the National Intelligence University; Department of National Defence, Canada; University of Naples Federico II; Georgetown University; U.S. Army Command and General Staff College; Columbia University; JFK Institute for North American Studies, Freie Universität Berlin; University of Texas at Austin; U.S. Army War College; Catholic University of America; U.S. Naval War College; California State University; Idaho National Laboratory; U.S. Air Force Academy; Pennsylvania State University; and others.
"With presentations from such a broad cross-section of experts, one of the primary goals of this conference series is to act as a platform for showcasing intelligence professional research," McGill said. "Ultimately, we'd like to develop a peer-reviewed publication to add to the body of intelligence literature."
Editor's Note: A limited number of tickets to Gov. Ridge's keynote address are available to the public, but pre-registration is required. Visit mhur.st/icf-registration.