Tom Hubert exhibits 'Boogie Woogie in the Studio'
Thursday, November 01, 2018
UPDATE: "Boogie Woogie in the Studio: Ceramics by Tom Hubert"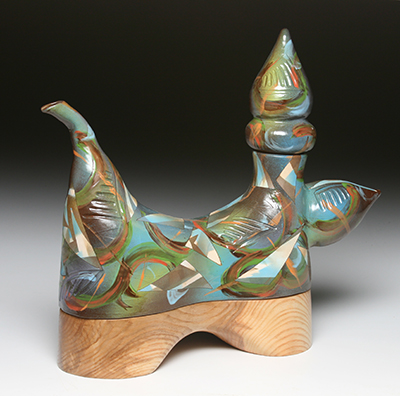 will again be on display in Cummings Gallery from Jan. 14 through Feb. 8. The gallery will be closed Monday, Jan. 21, due to Martin Luther King Jr. Day.
It was Tom Hubert's 3-year-old grandson who came up with the title for Hubert's next exhibit at Mercyhurst University's Cummings Gallery.
"I have always had music playing while I work and my ceramic studio also has a music studio with keyboards, guitars, etc.," said Hubert. "My personal favorite musical genres are blues, jazz and rock. A good boogie woogie riff is a fun way to get fired up."
So when young Ben arrives for a visit, they begin with a trip to the studio and a lot of great sounds. Ben calls it "boogie woogie in the studio."
Hubert will fill the gallery with 80 three-dimensional pieces for "Boogie Woogie in the Studio: Ceramics by Tom Hubert." The show runs from Nov. 5 through Dec. 16, with a reception for the artist on Thursday, Nov. 8, from 5 to 7 p.m.
Pedestals will feature 60 of his complex sculptural vessels and signature teapots, and another 20 pieces will be wall-mounted, including platters, plates, tiles, and more.
This exhibition is the culmination of several bodies of work completed over the last two and a half years, along with a few pieces from earlier series.
One series incorporates animal imagery and sometimes figurative imagery into pottery forms using cone 6 porcelain. Other pieces incorporate hardwood elements, providing a vivid organic contrast to the carefully decorated ceramic forms.
Another series involves more decorative patterns without specific imagery, using layers of underglaze and some with additional layers of porcelain slip that are carved through to reveal the underglaze and clay layers.
Hubert's most recent pieces incorporate spray stencils and careful hand-brush techniques. "These are very new and in the infancy stage of development. I am looking forward to my next series and pursuing this further," Hubert said. "I love playing with clay and the unending array of the techniques involved in ceramic processes. I am passionate about the daily routine of making."
More about Tom Hubert's wide range of styles and techniques with various clay bodies, firing temperatures and decorative methods can be seen on his website hubertceramics.com.
A lifelong resident of Erie, Hubert received a B.A. in art education from Mercyhurst University and an M.F.A. in ceramics and ceramic sculpture with a minor in photography from the School for the American Craftsman at Rochester Institute of Technology. This is his 39th year teaching at Mercyhurst, having taught part time since 1980 and full time since 1992. Promoted to full professor of art in 2012, he currently chairs the art department. Many of his works are part of the university's permanent art collection and are displayed throughout campus in Old Main and Hirt and Zurn Halls.
Hubert's resume includes more than 20 awards in national and regional exhibitions, including a Pennsylvania Council of Arts Grant and a National Endowment for the Arts/Mid-Atlantic Art Foundation Regional Fellowship. Most recently, he was awarded a 2nd Place Juror's Award for Crafts in June at the "Art of the State: Pennsylvania 2018" exhibition in Harrisburg. He has had 13 solo exhibitions in the last 17 years and his work has been in dozens of galleries across the United States.
Details of his work process and photographs of his ceramics have been featured in a variety of publications, from fine art textbooks, such as "500 Teapots: Contemporary Explorations of a Timeless Design," to ceramics magazines such as Clay Times.
Cummings Gallery is located in the lobby of the Mary D'Angelo Performing Arts Center on the Mercyhurst campus. It is open weekdays from 11 a.m. to 5 p.m. and Saturdays from noon to 3 p.m.; closed Sundays. Cummings will also be closed Nov. 21-25 during Mercyhurst's Thanksgiving break.
For more information, contact gallery director Jessica Stadtmueller at jstadtmueller@mercyhurst.edu.