Three pursuits fuel Mercyhurst student's 'master plan'
Friday, March 01, 2019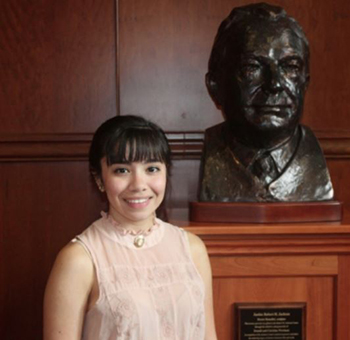 Rosie Pregler's mom has this thing about music and kids: play an instrument, sing a song, dance; that was her advice all through childhood. Rosie, the third of the four Pregler children, responded by embracing theater.
Turns out mom's prodding, combined with Rosie's passion for archaeology and public history, combined to create a distinctive career aspiration for the Erie native and Mercyhurst University senior.
A double major in Anthropology/Archaeology and History with a minor in Theater, Rosie is juggling three interests that some have cautioned have little common ground. Well, archaeology and public history, yes; but theater?
According to Rosie, they are all part of her master plan.
At present, she is entering the final stretch of two challenging senior capstone projects – an archaeological study and a public history narrative – both in connection with the Warren County birthplace of Robert H. Jackson. Born in Spring Creek in 1892, Jackson had a storied career in public service. He served as U.S. Solicitor General and U.S. Attorney General before being appointed to the U.S. Supreme Court in 1941. Jackson took a leave from his post on the court to act as Chief U.S. Prosecutor during the Nuremberg Trials of Nazi war criminals following World War II. He died in 1954.
Rosie is the chief student researcher on both projects, begun last summer through an agreement among Mercyhurst's Anthropology/Archaeology program chaired by Dr. Mary Ann Owoc, History program chaired by Dr. Ben Scharff, and the Robert H. Jackson Center. Also endorsing the project is Glendorn Land, the current owners of the property overlooking Spring Creek where Jackson's great-grandfather settled shortly after the American Revolution.
For the archaeological study, Rosie is using her training to map the homestead site, photograph the property, and conduct a pedestrian survey to identify and flag artifacts for further study.
Structurally, all that remains on the property is the foundation of the farmhouse and of the barn. But a well-trained eye can detect clues to past environments, and that's what intrigues Rosie. It was fascinating for example, she said, to see an archaic ceramic piece juxtaposed against a more modern roof tile.
"It gave you a real strong sense of the long history of this property," she said.
Rosie's archaeological investigation is augmented by her public history capstone project in which she is researching the history of the property and collecting oral histories from those who had a connection to it, including one of Robert H. Jackson's grandchildren.
It was clear that generations of this family had a tangible connection to the property, she said. For decades, they came and went if only to camp at the historic site. Even Robert H. Jackson himself couldn't stay away. During his many years in D.C., he would make summer trips back to the family farmstead.
Rosie said she hopes her work can help the Jackson descendants rediscover their connection to the Jackson Farmstead, while sparking an interest in others.
On Saturday, May 11, at 11 a.m., she will have the opportunity to share her research with the public during a presentation at the Spring Creek Fire Hall, 6345 Route PA-426.
Now, circling back to theater and the role it plays in her trio of interests, Rosie said her career goal is to work within a museum, archival collection or historic property venue to produce living history.
"I love history, but I need to live it," she said. "I want to step into the lives of people from the past and share those lives with people today. I feel that requires some level of performance to be authentic, and is best accomplished by having a strong familiarity with the history you are trying to convey."
During her theater career at Mercyhurst, Rosie has both acted and directed. Her favorite role was that of a truly historic figure, Anne Frank, which she played in 2016 on the stage of Taylor Little Theatre.   
Rosie's May 11 presentation is free and open to the public. For more information, call 716-483-6646 or email info@roberthjackson.org .