From tents to tall ships: Let the crowdfunding begin
Monday, November 26, 2018
Mercyhurst University launches the third iteration of its crowdfunding program this week, seeking to build off successful campaigns in 2016 and 2017.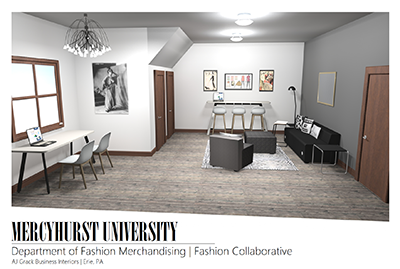 "Crowdfunding is a growing concept across all enterprises, and higher education is no exception," said Ryan Palm, associate vice president for advancement, who directs the initiative. "Over the past two years nearly 300 donors gave over $31,000 in support of Mercyhurst's crowdfunding projects."
As is customary, the advancement staff vets all project proposals, this year selecting the following:
The Fashion Merchandising Department proposes to renovate an underutilized room on the third floor of Old Main, converting it into an informal learning space where students can collaborate on projects, meet with faculty members, or just have a cup of coffee between classes. ($3,000 goal)

The Sports Medicine/Athletic Training Program seeks funds for equipment and supplies for cast fitting and removal. ($4,500 goal)

The Laker Field Hockey Program hopes to update players' travel gear and equipment, including a branded pop-up tent for use both at home and on the road. ($4,000 goal)

The Autism Initiative at Mercyhurst is asking for support for student travel, including a tall-ship voyage in Florida as well as trips to Japan, Malaysia and Indonesia to share students' vocational experiences with similar programs. ($5,000 goal)
"We're thrilled with the diversity of programs and the student groups that are represented in this year's crowdfunding crop," Palm said. "These are important projects that will significantly enhance the everyday life of the students in these majors and programs."
You can learn more about Mercyhurst crowdfunding and show your support for these projects at http://www.mercyhurst.edu/crowdfunding/.