Super SoMar Palooza! celebrates 20 years of dance
Thursday, January 31, 2019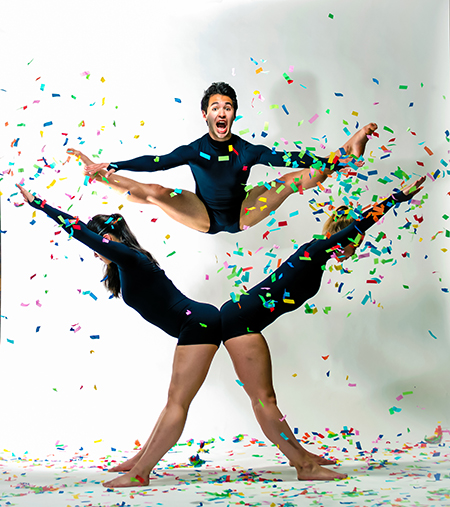 SoMar Dance Works will celebrate the company's 20th anniversary with a Super SoMar Palooza! concert on Saturday, Feb. 23, at 7 p.m. at Mercyhurst University's Mary D'Angelo Performing Arts Center.
SoMar Dance Works, co-founded and directed by Solveig and Mark Santillano, is known for its creativity, wit and artistry. This innovative dance company has been called "daring, evocative and slightly mad." The concert is presented by the Mercyhurst University Dance Department (where SoMar Dance Works is in-residence) and in coordination with the Mercyhurst Institute for Arts & Culture.
A "palooza" is defined as an exaggerated event, and the name is quite fitting for this platinum anniversary production. With the largest cast in SoMar's history, the concert will feature 25 dancers performing nine favorites from the company's extensive repertoire of more than 100 dances. Two world premieres are also on the program. Ranging from poignant to preposterous, silly to sublime, Super SoMar Palooza! is sure to delight and engage those new to concert dance as well as dance aficionados.
Mark Santillano said, "We are pulling out all the stops for this concert. We're in a beautiful theatre, we're restaging our best pieces, and our dancers are truly amazing. You really don't want to miss this one."
Featured on the program will be Free Fall, created in 2003 and set to the music of Laurie Anderson. Solveig and Mark Santillano originally danced this duet, which is filled with the innovative partnering work SoMar specializes in, but have passed the work on to two of their company members, seniors Lucas De Marinis and Sarah Taylor. "It's exciting to see new dancers take on the challenge of this choreography," said Solveig Santillano, "but there's also a bittersweet feeling because I loved performing this piece so much. It's a little difficult to let it go."
The audience will also see Tailspin Tango (music by Piazzolla, Villoldo and Saborido); Quicksilver (an exciting contemporary ballet piece en pointe); Piercing Darkness and Shape Shifters (with original music by co-director Mark Santillano); Zoom Tube (with live music from special guest artist Anna Meyer on flute); Crouching Tutu, Hidden Drag Queen (an unforgettable, unconventional tribute to/parody of Bruce Lee films); and Dance By Numbers – Pi (a choreographic study on variations dictated by a very irrational number).
SoMar Dance Works features the dances of Solveig and Mark Santillano. Both are on faculty in the Mercyhurst University Dance Department. Serving as co-artistic directors, choreographers and dancers, Solveig and Mark are seasoned performers who have danced all over the world. Their choreography has been influenced by their association with their former companies, Pilobolus Dance Theatre and Momix. Solveig and Mark are also the proud recipients of the inaugural Erie Arts & Culture Artist Fellowship.
SoMar Dance Works made its premiere in 1999 at the Missouri Fine Arts Academy. Since that time, SoMar has performed at the Erie Art Museum, Erie Festival of Dance, the American College Dance Festival, Celebrate Erie, The Brick Church for the Performing Arts in Lovell, Maine, Unitarian Universalists in Community concert, Luther Memorial Concert Series, The Fredonia Opera House, Grand Valley State University, overseas in Gothenburg, Sweden, Austria's Young! Tanzsommer, and in numerous Mercyhurst University programs.
Super SoMar Palooza! cast members include Mercyhurst Dance majors/alumni/faculty: Gabrielle Bejarano, Kaitlyn Culp, Caitlin Cummings, Lucas De Marinis, Emma Devore, Kate Duane, Austin Duclos, Caroline Enwright, Kristen Faraclas, Dominic Fortunato, Sarah Gregory, Shelby Hildebrand, Niusha Karkehabadi, Nicole Quinn, Rachel Rhodanz, Mark Santillano, Solveig Santillano, Hannah Schayes, Lucie Shultz, Grace Sinke, Jessica Skinker, Jenna Swartz, Sarah Taylor, Jo Theisen and Margaret Vivian.
This production is made possible in part by a Pennsylvania Partners in the Arts grant by Erie Arts and Culture and the Pennsylvania Council on the Arts.
Tickets are $15 for adults, $10 for seniors, and $7.50 for students/youth. They can be purchased online at miac.mercyhurst.edu or by calling the Mary D'Angelo Performing Arts Center box office, 814-824-3000
For more information, call Mark Santillano at (814) 824-2176 or visit somardanceworks.com.