Students 'Make Mercy Real' through video shorts
Monday, April 01, 2019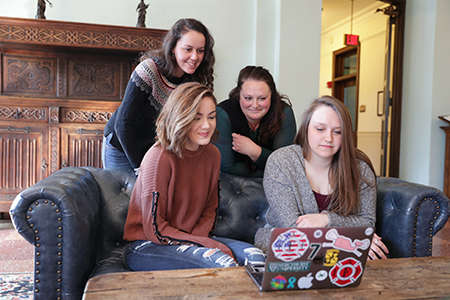 Messages of opportunity, empowerment, and inclusiveness are among the themes three Mercyhurst University students have chosen to share through videos they produced to honor the Critical Concerns of the Sisters of Mercy.
 
Dr. Averill Earls assigned the 21 students in her Digital History: Documentaries course to produce video shorts related to Mercyhurst history; three of those students decided to combine the assignment with a "Make Mercy Real" Video Contest sponsored by the Sisters of Mercy of the Americas.
 
The contest calls upon students in Mercy high schools and colleges to tell a compelling story of how people in their communities "make mercy real" and live out the Sisters of Mercy's Critical Concerns: Immigration, the Earth, Racism, Nonviolence, and Women. Deadline for submission is April 1, and $500 goes to the grand prize winner.
 
Spencer Hess, a senior from Pickerington, Ohio, studying psychology and sports studies, chose to focus on the critical concern of Women. As a lacrosse player for the Lakers, Spencer decided to shine the spotlight on female athletic trainers and female athletes. "I wanted to show through my video how Mercyhurst creates opportunities for women to blossom," she said. "Women can find a lot of empowerment at Mercyhurst."
 
Meadville-area sophomore Lily Gunn, who is double majoring in communications and history, also chose Women, telling the story of how Mercyhurst was "founded by women for women" and how the university has evolved over the past 93 years.
 
Junior Molly Kennedy of Pittsburgh, who is majoring in history, chose Racism as her critical concern, casting a lens on a female student from South Sudan who founded the campus club AfroBeats to share her culture with the college community through dance. "I wanted to show how students at Mercyhurst are taking it upon themselves to make our community more diverse," she said.
 
Earls, meanwhile, said the tech skills students cultivate through her course will position them well in their careers, regardless of the discipline they elect to pursue. Further, researching and telling stories about the history of Mercyhurst better connects them to the university and to each other.
 
To view the three contest videos and all others, please visit Hurstories.
PHOTO: Seated (l-r) Lily Gunn and Spencer Hess; standing (l-r) Molly Kennedy and Dr. Averill Earls