Student gives grandma gift of life for Christmas
Thursday, December 20, 2018
EDITOR'S NOTE: (Mercyhurst University sophomore Kyle Mitchell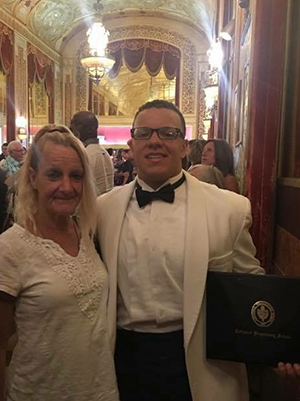 is scheduled to be released from a Pittsburgh hospital today, after donating a part of his liver on Dec. 13 to his grandmother, Sally Dickerson, both of Erie. It was hoped that they would return to Erie together in time for Christmas. Unfortunately, Dickerson suffered a stroke six days after the transplant surgery and the family is asking for prayers for her recovery. Her prognosis is unclear, although the family reports her condition stable as of 12/20/18.)
Like most college students longing for Christmas break, Mercyhurst University biology major Kyle Mitchell just wanted to hurry up and get through finals. He had big plans for the holidays, but they had nothing to do with Secret Santas, family vacations, college bowl games or New Year's Eve parties. Instead, he was about to give the greatest gift of his young life.
On Dec. 13, 19-year-old Mitchell underwent surgery at UPMC Montefiore Hospital in Pittsburgh to donate part of his liver to his grandmother, 59-year-old Sally Dickerson, who was in stage-four liver failure. She had been sick for many years, the result of a birth defect that ultimately put her liver function in peril. A transplant was her only option for survival, and time was running out.
Dickerson's daughter and Kyle's mother, Sabrina Santiago, was the obvious choice. Although she was a match, medical professionals determined she was not a suitable candidate because she had Lupus. So, she launched a Facebook plea for prayers and for donors. Although several people came forward, none was a match.
Mitchell, who hopes to go to medical school after graduating from Mercyhurst, decided it was up to him. It was scary, because liver transplants are known to be challenging surgeries, but Grandma Sally held a special place in his heart and he wasn't about to let fear stand in his way of helping her if he could. She was often on the sidelines, cheering him on as he played football for Cathedral Prep; even in his youth baseball days, she was his biggest fan.
Santiago was hesitant to put her young, healthy son on the operating table, but she realized it was her mother's last chance. What a choice. And, yet, Mitchell insisted on stepping up and wouldn't take no for an answer.
"I was in an out of the chapel all day long," said Santiago, remembering the crush of emotions on that fateful day. "I was overwhelmed that both of them were in surgery, but I was optimistic that it would work out and that my mom would finally be OK."
It seemed that everyone's prayers were answered when Mitchell came through the surgery in great form, and Dickerson's hybrid liver started functioning almost immediately.