Student directors showcase talents in 'All in the Timing'
Tuesday, January 23, 2018
The Mercyhurst Theatre Program showcases the talents of its student directors when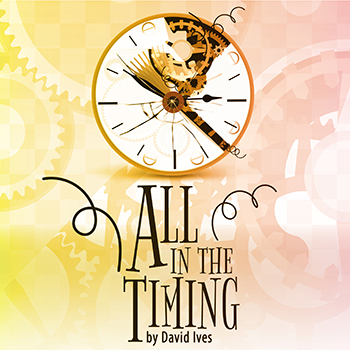 David Ives' All in the Timing comes to Taylor Little Theatre, Feb. 8-11. All in the Timing is an anthology of sketches that established Ives as a playwright with a singular gift for turning writerly self-consciousness into short-form intellectual slapstick.
Sure Thing, directed by Owen Hitt, is a classic of contemporary comedy, in which two people meet in a café and find their way through a conversational minefield as an offstage bell interrupts their false starts, gaffes and faux pas on the way to falling in love.
Words, Words, Words, directed by Ashley Poletto, recalls the philosophical adage that three monkeys typing into infinity will sooner or later produce Hamlet and asks: What would monkeys talk about at their typewriters?
The Universal Language, directed by Rosie Pregler, brings together Dawn, a young woman with a stutter, and Don, the creator and teacher of Unamunda, a wild comic language. Their lesson sends them off into a dazzling display of hysterical verbal pyrotechnics – and, of course, true love.
Philip Glass Buys a Loaf of Bread, directed by Sarah Krempasky, is a parodic musical vignette in trademark Glassian style, with the celebrated composer having a moment of existential crisis in a bakery.
The Philadelphia, directed by Abby Larimore, presents a young man in a restaurant who has fallen into "a Philadelphia," a Twilight Zone-like state in which he cannot get anything he asks for. His only way out of the dilemma? To ask for the opposite of what he wants.
Variations on the Death of Trotsky, directed by Kathryn Schmitt, shows us the Russian revolutionary on the day of his demise, desperately trying to cope with the mountain-climber's axe he's discovered in his head.
The student directors, under the supervision of Dr. Brett D. Johnson, have been responsible for every step of the directorial process, from analyzing the text to casting and rehearsing the show to incorporating the technical elements. "The one-act festival is a sort of capstone project for our theatre minors," Johnson says, "because it requires them to draw upon their knowledge of acting, directing, script analysis, theatre history, dramatic literature and technical theatre."
Krempasky calls the production a wonderful opportunity for burgeoning young artists: "I want to be as knowledgeable as possible about all aspects of theatrical production, and directing a short one-act play is a great way to ease into the learning process." Pregler also notes that functioning as director has allowed her to "gain incredible experience that I can apply in the professional world of archaeology or public history."
The students have faced some challenges as well. Poletto says that the biggest challenge has been "not knowing if I'm doing it correctly. It's all trial and error. Luckily I have a great cast, stage management team and directors working alongside me." Hitt adds that directing one's peers can be daunting, as can all the pre-production work required of directors, including attempting to understand a play from different perspectives. Despite these challenges, the students look forward to bringing Ives' comedic plays to life and sharing their work with audiences.
The cast includes 18 Mercyhurst students: Kristian Biega, Emily Black, Caitlyn Cressley, Dominic Fortunato, Aidan Giles, Natalie Gottfried, Gabriel Grey, Rachele Heasley, Tyler Kirchmeir, Charity Ludwig, Cole Prots, Jenna Rosciszewski, Tessa Sayre, Grace Sloop, Vivian Suazo, Monica Tinsley, Jacob Tretinik and Alexis Webb.
The creative team consists of Madeleine Steineck (lighting designer), Rebecca Holt (production stage manager), Elizabeth Shewan and Abby Whitman (assistant stage managers).
Performances are Thursday through Saturday, Feb. 8-10, at 7:30 p.m., and Sunday, Feb. 11, at 2 p.m. in Taylor Little Theatre.
Single tickets are $15 for adults, $10 for senior citizens and non-Mercyhurst students and $5 for Mercyhurst students with their I.D. All performances are general admission, with doors opening 30 minutes prior to curtain. 
Patrons can reserve their tickets online at miac.mercyhurst.edu, by phone at 814-824-3000 or at the Mary D'Angelo Performing Arts Center box office. Tickets will also be on sale at the theatre beginning one hour before curtain.
For more information, visit miac.mercyhurst.edu.