Student choreographers share artistry in Raw Edges XXI
Tuesday, March 26, 2019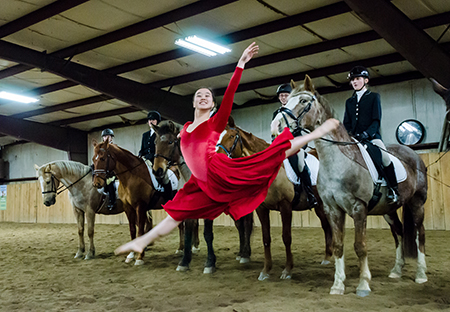 The Mercyhurst University Dance Department will showcase works by a dozen cutting-edge student choreographers when it presents Raw Edges XXI April 5-7 in the Mary D'Angelo Performing Arts Center.
The students have spent all year preparing their offerings, working with faculty mentors C. Noelle Partusch, Mark Santillano and Solveig Santillano. The students are responsible for the entire process, from developing a theme and creating choreography, to casting fellow students in their works, to choosing costumes and musical accompaniment, and more.
"This year's topics are particularly exciting and relevant," notes associate professor and co-director Solveig Santillano. "For the past four years, these students have been formulating a response to the questions 'Who am I as an artist?' and 'What do I want to say in the world?.'  It is exhilarating to see such personal engagement and field related leadership."
She said the students' pieces are thoughtful, drawing inspiration from Greek mythology to sacred architecture, rock ballads to Broadway, human relationships, and even dancing with horses. She added that this year's topics reflect broad social concerns such as cultural identify, the politics of shame, polarization, animal rights, and gender representation.
The choreographers and their works include:
•    Lucas De Marinis – "Wings of Wax and Feathers," a contemporary work inspired by the Greek mythology of Icarus
•    Liam Fitzpatrick – "Experience," about the evolution of the male dancer through time
•    Dominic Fortunato – "Places Please!!," exploring the contrasting styles of legendary Broadway choreographers Bob Fosse and Jerome Robbins
•    Marcela Gómez Lugo – "Caribe," exploring the traditional music and dances of Puerto Rico
•    Hunter Hoffman – "E Pluribus Unum," focused on using the arts as a channel to make world events easier to process
•    Niusha Karkehabadi – "The Branding of Impressions," about shame and the underlying conditions that shame lives in
•    Megan Lay – "Force of Four," contemporary ballet choreography combined with laser lighting elements and Pink Floyd music
•    Grace Petron – "Angels from the Realms of Glory," a project based on Christian Angelology, Sacred Geometry and Sacred Architecture
•    Rachel Rhodanz – "patiens in silentio," analyzing empathy and how humans treat other beings on the planet, and the planet itself
•    Sarah Swanson – "Some Kind of Magic," exploring the different stages of love, set to the music of Queen
•    Sarah Taylor – "The Girl," telling the story of a long-distance relationship and exploring different theories of art
•    Carrie VanOsten – "Pas de Cheval," showcasing the similarities and contrasts in the beauty of dance and of horses
The concert will also feature a capstone performance by soloist dance major Margaret Rebuzzini. Her piece, titled "Duende," was created by guest artist Elise Lavallee.
Audience members will have the opportunity to hear from the choreographers during "Talk Back" sessions during intermission, during which they'll discuss their processes for creating, realizing and articulating a unique vision.
Raw Edges will be performed in the Mary D'Angelo Performing Arts Center on Friday, April 5, at 7 p.m.; Saturday, April 6, at 2 and 7 p.m.; and Sunday, April 7, at 2 p.m. Tickets are $15 for adults, $10 for seniors and students, and $5 for youths 12 and under and Mercyhurst students. They can be purchased online at miac.mercyhurst.edu or by calling the box office at 814-824-3000.
PHOTO: Carrie Van Osten's piece, "Pas de Cheval," combines her love of dance with her love of horses.