Speaker probes implications of feminist movement
Tuesday, September 25, 2018
The inner workings and implications of the feminist movement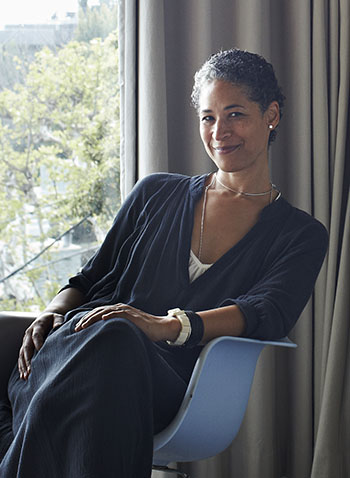 will receive a probing exploration when author and activist Rebecca Walker visits Mercyhurst University on Tuesday, Oct. 23.
Walker's talk, entitled "Stuck at the Intersection: Can Feminism Survive the Traffic?," is part of the Charlene M. Tanner Speaker Series. The program begins at 7 p.m. in the Mary D'Angelo Performing Arts Center.
While the talk is free and open to the public, tickets are required. Tickets become available to members of the Mercyhurst community on Oct. 1 at the Mary D'Angelo Performing Arts Center box office, and to members of the general public on Oct. 8. Limit of one ticket per Mercyhurst student and two tickets apiece for all others.
Walker contributes to the global conversation about gender, identity, power and the evolution of the human family through her writings, teachings, film and television projects and in social media. In "Stuck at the Intersection," Walker explores the possibility of a transformational feminism that honors ideological difference without abandoning solidarity.
Walker is considered a pioneer of "Third Wave Feminism," after she coined the term in her seminal 1992 article "Becoming the Third Wave," in Ms. magazine. In 1995, Walker authored the definitive primer on the movement, To Be Real: Telling the Truth and Changing the Face of Feminism, a work that has informed Gender Studies programs around the world.
She has written seven bestselling books, including the memoirs Baby Love: Choosing Motherhood After a Lifetime of Ambivalence and Black, White, and Jewish: Autobiography of a Shifting Self. Her works What Makes a Man: 22 Writers Imagine the Future and Black Cool: One Thousand Streams of Blackness have also gained acclaim for their examinations of cultural and societal issues. In 2013, Walker wrote her first novel, Adé: A Love Story.
Her work has been published in the Washington Post, The Huffington Post, Salon, Essence, Glamour, Marie Claire and Vibe, among many others. She has also appeared on Good Morning America and Oprah, developed television projects with NBC, BET and Viacom, and written for the Amazon Prime series One Mississippi.
Walker teaches the art of memoir at workshops, MFA programs and writing conferences, and has worked as a private publishing consultant. When she was 21, she co-founded the Third Wave Fund for the empowerment of young women aged 15-30, which continues to make grants to women and transgender youth working for social justice.
Walker is the daughter of esteemed author Alice Walker, who won the National Book Award and Pulitzer Prize for Fiction for her work The Color Purple. She lives in Hawaii and Northern California with her son and his father.
This event is being gifted in memory of Charlene M. Tanner by her loving partner Doris Cipolla. Because of their shared interests in social justice, peace and the environment, it is hoped that this program will inspire others to help create a healing environment for the world.