'SoMar, Circles & Cycles' performed in-the-round
Wednesday, February 14, 2018
SoMar Dance Works will present a new concert, SoMar, Circles and Cycles,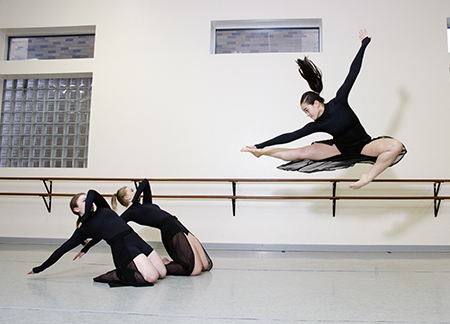 at the Erie Art Museum's Founders Gallery on Friday and Saturday, Feb. 23-24, at 7:30 p.m. Tickets are $15 and will be available only at the door.
The concert explores the nature of the most fundamental of shapes, the circle – where the wheel of fortune meets the circle of life, and the beginning is the end is the beginning, again. Naturally, SoMar, Circles and Cycles will performed "in-the-round."
SoMar Dance Works has been engaging and entertaining Erie audiences for 19 years with its artistry, physicality, wit and creativity. The company is in residence at Mercyhurst University, where co-artistic directors Solveig and Mark Santillano are on the dance faculty.
They'll be joined for this concert by dancers Lucas De Marinis, Dominic Fortunato, Elizabeth Hite, Megan Lay, Meg Rebuzzini, Rachel Rhodanz, Hannah Schayes, Kerry Schroeder, Lucie Shultz, Jenna Swartz, Sarah Taylor, Jo Theisen and Carrie VanOsten. Original music will be performed live by composer/musicians Tim Theisen and Andy Hasenpflug.
Included on the program will be Igor Stravinky's Rite of Spring and the premier of SoMar's rendition of Carmina Burana. The concert is sponsored in part by a grant from the Pennsylvania Council on the Arts and Erie Arts and Culture.
Solveig and Mark Santillano will also offer a master class on contemporary partnering techniques on Saturday, Feb. 24, at 1 p.m. The class – open to anyone interested in exploring human movement potential regarding multiple body configurations – is sponsored by the Erie Dance Consortium. The class fee is $10.
Serving as co-artistic directors, choreographers and dancers, the Santillanos are seasoned performers who have danced all over the world. Their choreography has been influenced by their association with their former companies, Pilobolus Dance Theatre and Momix. They are also the proud recipients of the inaugural Erie Arts & Culture Artist Fellowship.
SoMar Dance Works made its debut in 1999 at the Missouri Fine Arts Academy. Since that time, SoMar has performed at the Erie Art Museum, Erie Festival of Dance, the American College Dance Festival, Celebrate Erie, The Brick Church for the Performing Arts in Lovell, Maine, Unitarian Universalists in Community concert, Luther Memorial Concert Series, The Fredonia Opera House, Grand Valley State University; overseas in Gothenburg, Sweden, and Austria's Young! Tanzsommer; and in numerous Mercyhurst University programs.
For more information, call Mark Santillano at 814-824-2176 or visit somardanceworks.com.
PHOTO: Megan Lay and Sarah Taylor (kneeling), Jenna Swartz (jumping). Photo by Mark Santillano.