SimpleSense: Technology to the rescue
Monday, September 17, 2018
When firefighters respond to the scene of a burning building,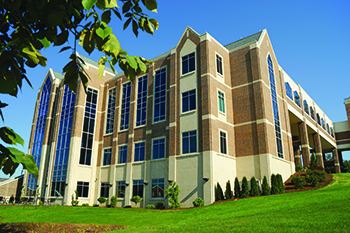 their primary concern is to rescue anyone trapped inside. That can be time-consuming in a multi-story building as first responders urgently navigate floor after floor in search of victims.
SimpleSense, one of the nine companies in the 10-week Secure Erie Accelerator (SEA) hosted by the Erie Innovation District (EID) at 717 State, has a solution to expedite the search, and will test its technology at Mercyhurst University, lead partner in the EID, on Tuesday, Sept. 18, at 9:45 a.m.
"We install simple sensors throughout a building, much like a fire alarm system," SimpleSense CEO Mark Lorkowski explained. "The sensors use infrared technology to detect human presence and identify the fastest routes for first responders to find people trapped inside."
In a previous simulation involving the Reno, Nevada, Fire Department, the sensors enabled firefighters to find two victims inside a four-story building in four minutes, compared to 16 minutes using the department's traditional protocols. SimpleSense will conduct its local test in conjunction with the Erie Fire Department, using Mercyhurst's four-story Center for Academic Engagement as the venue.
As the company expands, SimpleSense intends to run additional tests in schools, offices and other high-hazard buildings across the U.S. to validate how best to implement their sensors. Lorkowski said the company recently partnered with Comcast's machineQ™, a service that leverages connected sensor, network and software technologies to enable innovative IoT solutions.
By partnering with Comcast to test its public safety applications, SimpleSense's sensors gain longer range communications, deeper penetration inside buildings, and battery life of 10 years or longer, huge advances over the first generation of cellular-based sensors.