Shirley MacLaine kicks off MIAC's 2018-2019 season
Monday, April 23, 2018
From luminaries of stage and screen to icons of the music industry,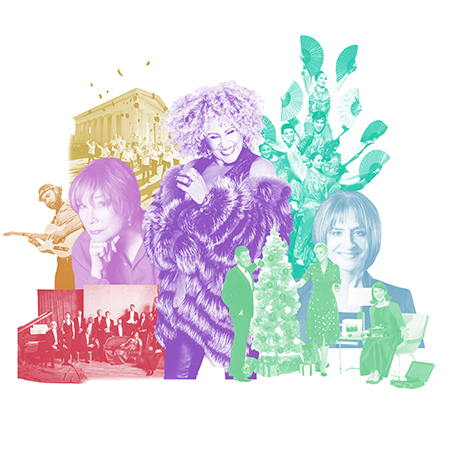 the Mercyhurst Institute for Arts & Culture's 2018-19 MIAC Live season boasts a star-studded roster of performers.
"I am delighted to announce my second season as director of programming," said Brett D. Johnson, Ph.D. "Our 2018-19 season reflects the Institute's commitment to presenting world-class performing arts experiences that lift the spirit, galvanize the intellect, stimulate the imagination and encourage the free exchange of ideas."
The MIAC Live series will commence in grand style when Shirley MacLaine brings her powerhouse presence to the Mary D'Angelo Performing Arts Center on Thursday, Sept. 20. MacLaine's celebrated career has spanned seven decades, 50 feature films and countless indelible performances. Winner of an Academy Award, a Golden Globe, six Emmys, the Cecil B. DeMille Lifetime Achievement Award and the Kennedy Center Honors, she is perhaps best known for her performances in The Apartment, Terms of Endearment, Steel Magnolias and Downton Abbey. In An Evening with Shirley MacLaine, the actress will share a montage of memorable film moments and private revelations about her extraordinary life, career and spiritual journey.
The season continues on Thursday, Oct. 4, with the beloved Portland-based musical ensemble Pink Martini. Drawing inspiration from music from all over the world – crossing genres of classical, jazz and old-fashioned pop – Pink Martini's diverse repertoire is a blend influenced by Cole Porter and Duke Ellington, Tito Puente and Xavier Cugat, as well as Argentine tango, Brazilian samba, Italian folk, Asian and romantic Hollywood musicals of the 1940s and '50s. According to bandleader/pianist Thomas Lauderdale, "If the United Nations had a house band in 1962, Pink Martini would be that band."
On Monday, Nov. 26, the celestial voices of the Vienna Boys Choir will evoke the joy and magic of the season by performing everything from Gregorian chant to popular holiday favorites from around the world. The choir has charmed audiences with rapturous harmonies, purity of tone, delightful repertoire and charming demeanor for more than 500 years.
A week later, a yuletide act of a different variety is sure to enthrall MIAC patrons.
On Tuesday, Dec. 4, Jane Lynch: A Swingin' Little Christmas! will treat audiences to a comically kitsch throwback to old WWII USO canteen and 1960s Christmas specials of yore. The Broadway and Emmy Award-winning entertainer will join comedic actress Kate Flannery (The Office) and musical arranger and fellow Glee alum Tim Davis in navigating in and out of tight three-part harmonies.
The spring season kicks off on Saturday, Feb. 16, when rock and roll legend Darlene Love takes the stage of the Mary D'Angelo Performing Arts Center. Love's career has spanned more than 50 years, from the glory days of the 1960s girl-group era to singing back-up for artists like Sam Cooke, Elvis Presley, Dionne Warwick, Cher and Aretha Franklin. Her Billboard hits include "He's A Rebel," "The Boy I'm Gonna Marry," "He's Sure the Boy I Love" and the holiday classic "Christmas Baby Please Come Home," a song she performed annually on The Late Show with David Letterman for 29 years. Love received her industry's highest award in 2011, when Bette Midler inducted her into the Rock and Roll Hall of Fame.
Next up are the Golden Dragon Acrobats, who will dazzle audiences on Saturday, March 23, with a time-honored tradition that began more than 25 centuries ago. The company's reputation is rooted in a commitment to the highest production values and an unparalleled attention to artistic detail. Patrons can expect award-winning acrobatics, traditional dance, spectacular costumes, ancient and contemporary music and breathtaking theatrical techniques.
On Thursday, April 4, the members of PigPen Theatre Co. are putting down their shadow puppets and arming themselves with a bevy of banjos, accordions, fiddles and other old-timey instruments. Thunderous drumming combined with lush, folksy melodies and lyrical storytelling make the group's music sound as if it's emanating from an Appalachian coal mine or 18th century shipyard rather than a group of 21st century musicians.
The MIAC Live season concludes on Thursday, May 2, with Broadway legend Patti LuPone, whose storied career in Broadway and Hollywood has spanned more than four decades. Since establishing herself with a Tony Award-winning performance as Andrew Lloyd Webber's Evita, she has impressed audiences and critics alike in Les Misérables, Sunset Boulevard, Sweeney Todd and Gypsy, for which she won another Tony Award in 2008. In Don't Monkey with Broadway, LuPone will explore, through unforgettable interpretations of classic Broadway show tunes, how her life-long love affair with Broadway began and her concern for what the Great White Way is becoming today.
Scott Enterprises, sponsor of the 2018-2019 MIAC Live Series, issued the following statement: "Scott Enterprises is proud to continue to support the arts in Erie. We look forward to our continued partnership with Mercyhurst University and to be a part of what we are sure will be an extraordinary 2018-19 Season for the Mercyhurst Institute for Arts and Culture."
THE 501
With all of last season's shows selling out, the Institute is anticipating a high demand for tickets during the 2018-19 season. Patrons can gain first access by becoming a member of The 501. Members enjoy exclusive benefits, such as premium seats at star-studded performances, access to exclusive pre-show receptions and an invitation to the anticipated Summer Soirée on Saturday, July 28, featuring a concert by six-time Tony Award-winning Broadway legend Audra McDonald. Memberships will be available starting May 1. For more information about The 501, visit miac.mercyhurst.edu/the501 or call 814-824-3000.
SEASON SUBSCRIPTIONS
Another way to gain early access to tickets is by becoming a season subscriber. With the purchase of tickets to four or more MIAC Live performances, subscribers can save 15 percent on single ticket prices. Season subscriptions will be available starting July 9.
MORE INFORMATION
Single tickets go on sale Monday, Aug. 13, and can be purchased online, by phone at 814-824-3000 or at the box office in the Mary D'Angelo Performing Arts Center. The box office is open Monday through Friday from noon to 5 p.m.
AN EVENING WITH SHIRLEY MACLAINE
Thursday, Sept. 20, 2018, 7:30 p.m.
Mary D'Angelo Performing Arts Center
PINK MARTINI
Thursday, Oct. 4, 2018, 7:30 p.m.
Mary D'Angelo Performing Arts Center
VIENNA BOYS CHOIR
Monday, Nov. 26, 2018, 7:30 p.m.
Mary D'Angelo Performing Arts Center
JANE LYNCH: A SWINGIN' LITTLE CHRISTMAS!
Tuesday, Dec. 4, 2018, 7:30 p.m.
Mary D'Angelo Performing Arts Center
DARLENE LOVE
Saturday, Feb. 16, 2019, 7:30 p.m.
Mary D'Angelo Performing Arts Center
GOLDEN DRAGON ACROBATS
Saturday, March 23, 2019, 7:30 p.m.
Mary D'Angelo Performing Arts Center
PIGPEN THEATRE CO.
Thursday, April 4, 2019, 7:30 p.m.
Walker Recital Hall
PATTI LUPONE: DON'T MONKEY WITH BROADWAY
Thursday, May 2, 2019, 7:30 p.m.
Mary D'Angelo Performing Arts Center