Sailing away … summer course making big splash
Tuesday, May 15, 2018
The thrill of being under sail on the Great Lakes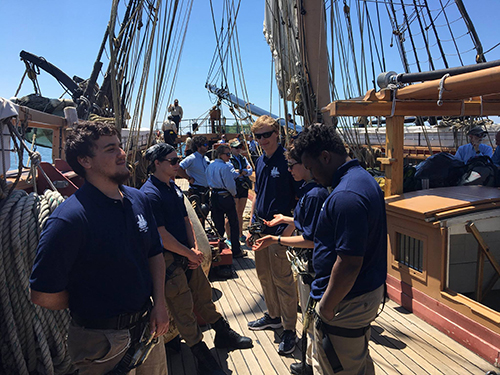 and experiencing maritime history up close and personal is drawing 10 Mercyhurst University students to study aboard the U.S. Brig Niagara this summer.
The three-credit course, offered by Mercyhurst in partnership with the Erie Maritime Museum and the Flagship Niagara, begins Wednesday, May 16, and lasts two-and-a-half weeks. Although their journey starts and ends in Erie, the students will voyage to major maritime museums and monuments of Lake Erie.
Besides lessons in seamanship and maritime history, students will acquire a deeper understanding of the seafaring culture. They'll learn sailing terminology, physical skills, familiarity with the ship and the social structure of shipboard life.
The Niagara, reconstructed in 1988, is a replica of the square-rigged sailing warship that fought in the 1813 Battle of Lake Erie.
Mercyhurst History faculty Dr. Ben Scharff, who introduced the course to seven Mercyhurst students for the first time last summer, is optimistic that the program will eventually grow to include the maximum of 20 participants. Four other students recruited through the Flagship Niagara League will join the Mercyhurst crew.
"I think it is only a matter of time until this program recruits itself, and we'd welcome students from other universities, especially out of the region," Scharff said. "Last year, we had one through the Flagship Niagara League who came from Florida Keys Community College and offered a whole different perspective on the experience."
Mercyhurst junior Ella Santillano, who took the course last summer, said, she'd "do it again in a heartbeat." Although rigorous and demanding, she said, "I loved sailing. I loved climbing in the rigging to set the sails, facing gravity and weather as I climbed higher than I thought I would. I loved seeing the different ports. I loved sleeping in the hammocks. I loved the midnight watch when I could see the stars, and standing lookout staring into the dark and feeling the deck roll beneath my feet…"
Jessica Page, a U.S. Army veteran and junior history major at Mercyhurst, is looking forward to an amazing experience taking the course this summer. In a nutshell, she said, "I figured the Army shouldn't be the only amazing thing I do in life."
Besides Page, other student-sailors include:
Ella DiPietro, Intel/Religious Studies, Erie

Ethan Wagner, History, Allison Park

Sarah Ford, Forensic Anthropology, Brecksville, Ohio

Haley Barletta, History/Political Science, Oil City

Aysayeh Murray, Biology/Pre-Med, East Stroudsburg

Nicholas Rugelis, Mathematics/Chemistry, Rochester

Mitchell McQuaid, undeclared, Erie

Liam Kurland, Intelligence Studies, St. Charles, Illinois

John Benko Jr., Public History, Bay Village, Ohio

Jessica Page, History, Erie, adult student and veteran
Education faculty Dr. Tim Frawley will also be joining the crew for part of the journey.
PHOTO: 2017 File Photo