'The Roost' stakes claim to Irish roots
Thursday, November 15, 2018
They call it Caffrey's at Marquette, McGurk's at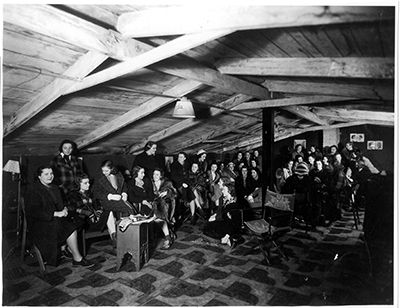 St. Louis University, O'Brien's at USC and O'Rourke's Public House at the University of Notre Dame. Just like these on-campus pubs that share the same Celtic DNA, Mercyhurst University will let its Irish heritage set the tone when it opens its own pub, The Roost, next year.
The Roost (see photo at right) references a chicken coop situated behind Zurn Hall during the 1930s that Mother Borgia Egan allowed a group of young women to transform into a campus lounge where they would be allowed to smoke. The students redecorated the coop with proper plumbing, a snack bar and a fireplace. Such was the beginning of the first student union at Mercyhurst, and soon to be, Irish pub.
And who better to help instill that Irish flavor than alumnus and successful Erie restaurateur John Melody, a native Irishman who is lending his expertise to the project taking shape on the ground floor of the Laker Inn. The founder and former owner of Molly Brannigans Irish Pub in downtown Erie, Melody now owns four U-Pick-6 establishments across Erie County.
At the urging of President Michael Victor, Melody has been consulting with Betsy Frank, director of executive office projects and events, well known for her decorating flair, and David Myron, vice president for finance and administration. (Melody, Frank in photo below)
"Obviously, John has the Midas touch when it comes to Irish 'watering holes' in Erie," said Frank. "We are going for a warm look with dark-hewn leather and plaid.  Cozy, inviting, and definitely Irish."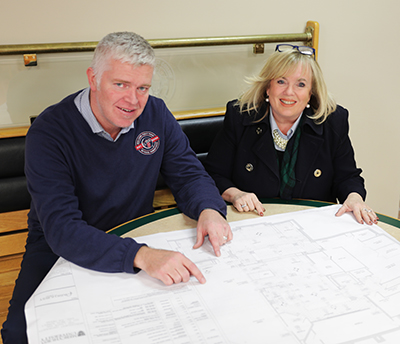 Myron concurred. "We want to create a friendly gathering spot on campus where students 21 and older can meet and enjoy a couple drinks together," he said. "Imagine saying to friends, 'Hey, let's meet at the pub after the game!' Plus, we'd like to start some traditions surrounding our own Irish Pub; that's all up for discussion."
The pub will be open to all guests, but will only serve alcohol to those 21 and over. In deference to concerns about a bar on campus, Victor said he sees a number of advantages, foremost among them, student safety. Having a pub on campus could deter students from drinking and driving; reduce the opportunity for drinks to be spiked or drugged, and provide more direct oversight of potentially dangerous behaviors like binge drinking. 
"As a residential college community, with the right restrictions like regulating operating hours and having people checked at the door for proof of age and student IDs, we believe a pub reminiscent of our Irish heritage could be a successful collegiate endeavor," Victor added.
Mercyhurst's partner in the project is Parkhurst Dining Services, the university's food service provider, which has already secured a liquor license from the Pennsylvania Liquor Control Board.
Dean Schoenfeldt, Parkhurst senior general manager at Mercyhurst, said, "We are polling the students for the menu options and are looking at traditional pub menu items like burgers, fries and wings. But we're also looking to offer some Irish menu items like Reuben sandwiches and Guinness cheese dip with pretzels. There is more work to be done, but we will be ready for the opening."
The pub is expected to open in February 2019.