On the Road: A bilingual boost in Bowie
Monday, July 23, 2018
Mercyhurst alumna Macarena Aguirre Estalella '16 was recently hired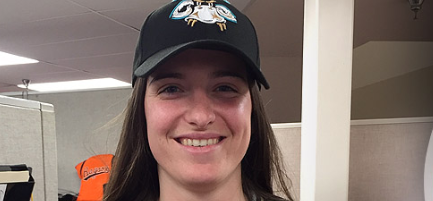 by the Bowie Baysox for a newly created bilingual marketing assistant position to spread awareness of the Baysox among the Hispanic communities of Bowie!
Read more below:
Article retrieved from: https://www.milb.com/milb/news/macarena-aguirre-estalella-brings-bilingu...
By Benjamin Hill / MiLB.com | May 17, 2018 10:00 AM
Macarena "Maca" Aguirre Estalella was born in Madrid, Spain, and spent her soccer-obsessed youth in the Mediterranean coastal city of Valencia. This, clearly, is not the background of a typical Minor League Baseball employee. 
And yet that's just the path that Aguirre Estalella's life has taken, as last month the Bowie Baysox hired her for a newly created bilingual marketing assistant position. In this role, she will spread awareness of the Baysox among the Hispanic communities of Bowie and its surrounding locales.
"I think what I do the most is making contacts that in the future can be good for the team," said Aguirre Estalella, speaking during a Baysox game on May 5. "It's about creating the relationship with the Hispanic community. ... There are areas [in the Bowie market] that are populated with, say, 30 percent El Salvadorans. Or, there's another area that is 55 percent Latin people. Spanish is their first language. So I go there, see what they want, see what they need, see if they come here [to Prince George's Stadium]. And if not, why not? ... There are families that live in Bowie that don't know that they have a stadium with a Minor League Baseball team."
"The reaction is very, very positive in terms of the [Cangrejos Fantasmas] colors," Aguirre Estalella said of her early outreach attempts. "Some of them even ask, 'Why is Minor League Baseball caring about us, as fans?' But they want that hat, they want that jersey, because, 'That represents me.' So it's very positive. We haven't had one single comment that is negative about what we're doing."
The Baysox will suit up as the Cangrejos Fantasmas on June 28, July 6 and August 31.
Aguirre Estalella is known as "Maca" around the ballpark, in part to avoid the "Macarena" song references that inevitably accompany the use of her full first name. Aguirre is her father's last name, Estalella her mother's.
"In Spain, we don't change the names," she explained, "so you always have your mom's family and your dad's family."
Aguirre Estalella said that, growing up, "sports was my life." And the sport that she cared about the most was soccer.
"I had a soccer ball with me all the time. Which is very rare, because soccer, growing up, is a boys' sport," she said. "And there came a point in my life where I wasn't allowed to play soccer. The school said, like, 'You can do ballet or tennis, but you cannot do soccer.' So, it's like, we're really behind."
But thanks to the support of a young coach at her school, Aguirre Estalella continued to play soccer as the only girl on a boys team. As she got older, she realized that if she wanted to play at the college level, she would have to leave Spain's restrictive athletic culture behind. She decided to attend college in the United States, eventually settling on Mercyhurst University in Erie, Pennsylvania. She chose Mercyhurst sight unseen, having never visited before deciding to enroll.
"[The plane] made a lot of noise going to Erie, and when we were about to land I could see only trees. It was a little crazy, but I was super-excited," she said. "It was a little tough at the beginning, because my English wasn't very good. Especially because of that."
Aguirre Estalella played soccer and tennis at Mercyhurst, and graduated with a communications degree in May 2016. Upon returning to Spain, she worked for the multinational CSM Sports and Entertainment company, an experience which made her realize she wanted to continue to work in the sports industry. She also founded a small agency, MAEducation, which counsels Spanish high school athletes who aspire to play collegiate sports in America.
"My objective was to come to the U.S. to play soccer, and I did. And it helped me learn how the sports industry works. Because in Spain, the industry is [small]," she said. "It's very sad and that's the way it is. ... But I learned how to have this mentality of entrepreneurship."
Seeking to expand this entrepreneurship mentality, Aguirre Estalella enrolled in Georgetown University's Sports Industry Management program, and will soon receive her Master's Degree. After completing classes in December, she returned to Spain while not quite knowing what the future held. She applied for the Baysox job via teamworkonline.com, conducting her cross-continental interview over Skype.
"Everyone says, 'If you want to work in sports and really learn, Minor League Baseball is what you have to do,'" she said. "Like, suffer a little bit, because if you're capable of working all these hours that we work, then you can jump to wherever ... And it's a position that, at the same time, I think I have a lot of value because I speak Spanish. And there aren't a lot of people in the front offices who speak Spanish, unless you go to Texas or California. Or, at least, that's the sense I get."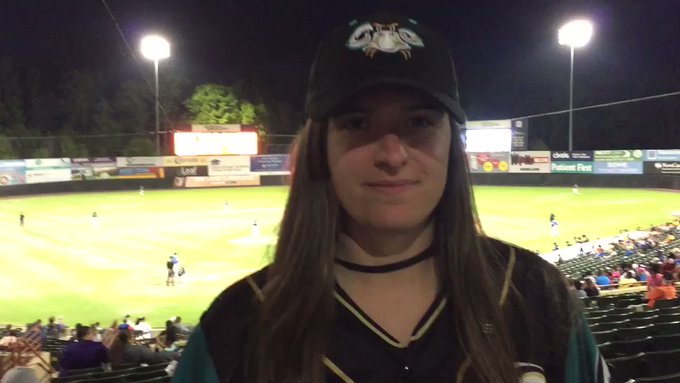 Prior to obtaining her position with the Baysox, Aguirre Estalella's only experience with Minor League Baseball was occasionally attending "Buck Night" Erie SeaWolves games during her time at Mercyhurst. She's getting a crash course now, all while promoting the Baysox and, in particular, their Cangrejos Fantasmas alter ego.
"The main objective now is making the relationships, getting people interested and letting people know what the Cangrejos Fantasmas are," she said. "We want to bring people to the ballpark so [that] we can keep doing this and improve and learn about what they want for many more years."