'Rigoletto' still reigns supreme as operatic masterpiece
Tuesday, March 06, 2018
Mercyhurst University's D'Angelo Opera Theater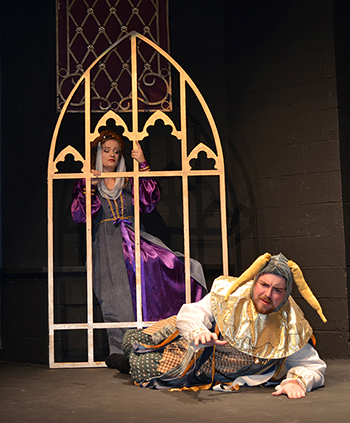 will marry artistry, beauty and tragedy when it presents Rigoletto on Friday, March 23, at 8 p.m., and Sunday, March 25, at 2 p.m., in the Mary D'Angelo Performing Arts Center.
A dramatic journey of undeniable force, Rigoletto was immensely popular from its premiere and remains fresh and powerful to this day. The story, based on a controversial play by Victor Hugo, tells of an outsider — a hunchbacked jester — who struggles to balance the dueling elements of beauty and evil that exist in his life. Written during the most fertile period of composer Giuseppe Verdi's artistic life, the opera resonates with qualities that are frequently called Shakespearean.
Since its premiere in Venice in 1851, Rigoletto has been hailed as an operatic masterpiece and is still among the world's most performed operas.
Selections from the opera have permeated the cultural consciousness, a testament to the work's universal appeal. The aria "La Donna Mobile" is regularly featured in cartoons and television commercials, while "Caro Nome" has become standard repertoire for aspiring coloratura sopranos.
The principal cast for the D'Angelo Opera Theater production includes Jake Shearer as Rigoletto, Robert Frankenberry as the Duke of Mantova and Victoria McIlvain as Rigoletto's daughter, Gilda.
The creative team includes technical director Andrew Ferguson and wardrobe supervisors Claudia Skal, Maria Dombrowski, Michelle Cali and Louisa Jonason.
Jonathan Moser will take the podium to conduct the 40-member Mercyhurst Civic Orchestra.
Mercyhurst's production of Rigoletto is the only full-scale live opera to be produced in the Erie region in 2018, thanks to a generous grant from Erie Arts & Culture.
Single tickets are $15.50 for adults, $12.50 for senior citizens and non-Mercyhurst students and $5 for Mercyhurst students with I.D. All performances are general admission, with doors opening 30 minutes prior to curtain. 
Patrons can reserve their tickets online at miac.mercyhurst.edu, by phone at 814-824-3000 or at the Mary D'Angelo Performing Arts Center box office. Tickets will also be on sale at the theatre beginning one hour before curtain.
For more information, visit miac.mercyhurst.edu.