Ridge-Palmer friendship yields support for archives
Tuesday, February 06, 2018
Erie native Governor Tom Ridge met fellow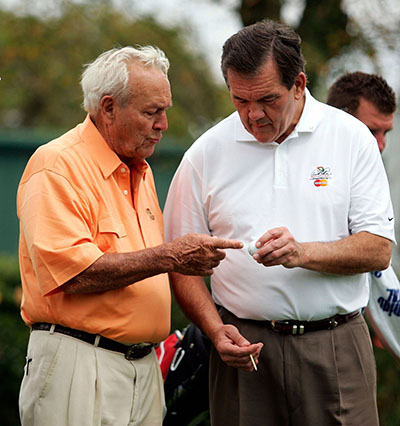 Pennsylvanian and professional golfer Arnold Palmer during his campaign for Pennsylvania governor in the early 1990s and they became fast friends, sharing a deep and abiding respect for each other.
In honor of that friendship, the trustees of the Arnold D. Palmer 2003 Charitable Trust have pledged $250,000 to Mercyhurst University to be used for renovations showcasing the Tom & Michele Ridge Collection in the university's Hammermill Library.   
"One of the most unexpected but lasting friendships made during my time in public service was my friendship with Arnold Palmer," Ridge said, in acknowledging the gift. "He was many things to many people, but to me, a dear and beloved friend for over 20 years. I think of him often and miss the regular visits and times together when the conversation often turned to politics and government at both the state and national level. I am truly honored and grateful that the legacy of our friendship will be part of the Mercyhurst archives."
The collection spans Tom Ridge's military service in Vietnam through his years as Pennsylvania governor and the first Secretary of Homeland Security. It also features the historic papers and ephemera from Michele Ridge's service as First Lady.
Given the collection's magnitude, Mercyhurst has spent years receiving, organizing, processing and preserving the various elements of the collection. As part of plans to make the archive readily accessible to students, faculty and the public, Mercyhurst is undergoing renovations to the highly trafficked first floor of Hammermill Library to create the Ridge Reading Room and Gallery.
"On behalf of Mercyhurst University, I want to express my sincere thanks to the Palmer family for their generosity, which will help create an exceptional environment for sharing the Ridge archives for generations to come," said Mercyhurst President Michael T. Victor.
In presenting the gift, Palmer's daughters, Amy P. Saunders and Margaret A. Palmer, issued the following statement:  "The Trustees of the Arnold D. Palmer Charitable Trust are pleased to support the Ridge Learning Center at Mercyhurst University. Our parents had a long and close friendship with Governor and Mrs. Ridge.  We are honored to support the learning center and feel that it is a fitting tribute to Governor and Mrs. Ridge's careers of public service." 
Photo Courtesy of the Tom & Michele Ridge Collection at Mercyhurst University