Ridge College hosts inaugural data science symposium
Tuesday, April 24, 2018
Big Data stands at the forefront of new scientific discoveries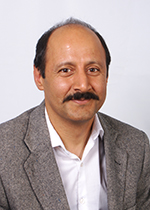 and is changing our everyday lives in myriad ways. As a leader in the field of intelligence, cyber security and data science, the Ridge College of Intelligence Studies and Applied Sciences at Mercyhurst University is hosting the inaugural Great Lakes Data Science Symposium on Saturday, May 5. The event begins at 9 a.m. in Room 300 of the Center for Academic Engagement.
Dr. Afzal Upal, chair of the Computing & Information Science (CIS) Department at the Ridge College, said the forum is intended to promote peer-reviewed data science research and to showcase research projects by data science graduate students. 
"I am so impressed by the creativity and talent of our graduate students," Upal said.  "If you want to meet future leaders of data science, you need to be at Mercyhurst Data Science Symposium."
A dozen students and faculty members will present their research on a variety of subjects centered around:
Big Data: Distributed data mining and machine learning platforms and algorithms, systems for large-scale data analytics of textual and graph data, large-scale machine learning systems, distributed computing (cloud, map-reduce, MPI), large-scale optimization, and novel statistical techniques for big data.
Data Science: Methods for analyzing scientific data, business data, social network analysis, recommender systems, mining sequences, time series analysis, online advertising, bioinformatics, systems biology, text/web analysis, mining temporal and spatial data, and multimedia processing.
Data Analytics: Business analytics, Credit Scoring and Financial Modeling, Forecasting, Fraud Detection, Web Intelligence and Information Retrieval, Marketing, Business Intelligence, and e-Commerce, Decision Analysis and Decision Support Systems.
Mercyhurst President Michael Victor will provide the welcome address. Program chair for the event is Dr. Stephen Ousley; in addition to Upal, committee members include Drs. Charles Redmond, Kris Wheaton and Michael Lamm.