'Reflections of Mercy' commemorates blessings of academic year
Thursday, March 28, 2019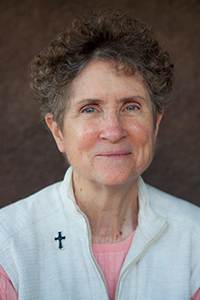 Co-celebrants for Mercyhurst University's spring liturgical service – "Reflections of Mercy" – are the Rev. Richard McCarty, Ph.D., an associate professor of religious studies at Mercyhurst, and Mercy Beyond Borders founder Sister Marilyn Lacey, RSM (at right). The service, open to the entire college community, is Wednesday, April 10, at 2 p.m. in Christ the King Chapel.
Just as the Mass of the Holy Spirit, held each fall, commemorates the spiritual opening of the academic year, 'Reflections of Mercy,' held in the spring, provides the occasion to give thanks for the blessings of that year.  
The complementary service is a tradition created last year by Mercyhurst President Michael T. Victor. "Like so many of us, I am devoted to our mission and to the legacy of the Sisters of Mercy," Victor said. "'Reflections of Mercy' is our opportunity to close out the academic year together by honoring the vision of our founders and giving thanks for our Mercyhurst family and all that we share."
'Reflections' is the centerpiece of Mercy Week, April 8-12, according to Greg Baker, vice president for mission who is organizing the week's schedule of events. Sister Marilyn, whose Mercy Beyond Borders project assists girls and women in obtaining an education in desperately impoverished nations, will offer the primary reflection at the prayer service. Also featured will be the Mercyhurst Choir, Liturgical Dancers, special acknowledgement of the Mercy Emissaries, and personal reflections on the Mercy tradition from students.
Immediately following the service, the college community is invited to visit with the Sisters and enjoy refreshments in Mercy Heritage Room.
During Mercy Week, Sister Marilyn will also engage the Mercyhurst community for Storytelling & Q&A on Thursday, April 11, at 9:30 a.m. in the student union at Mercyhurst North East, and at noon in the Student Union Great Room on the Erie campus. Refreshments will be offered at both events.
Coming Soon: A complete schedule of Mercy Week events.