Plans unveiled for Unity Week, Black History Month
Friday, February 09, 2018
Mercyhurst University will observe Black History Month as part of "Unity Week,"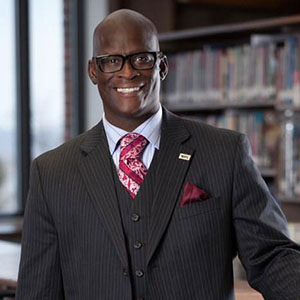 an annual celebration designed to understand and appreciate the individual differences, including culture, religion and beliefs, among members of the Mercyhurst community.
Organized by Multicultural Student Services and the Multicultural Activities Council, headed by Tyler Brentley and Char Luton, respectively, Unity Week (Feb. 19-23) festivities will be highlighted by a visit from Dr. Eddie Moore, Jr., a top motivational speaker and educator, who will discuss "Diversity, Privilege and Leadership: Are We Making Progress in the 21stCentury?" Moore will speak at 8 p.m. on Thursday, Feb. 22, in Zurn 114. His talk is free and open to the college community.
Moore has achieved success in academia, business, diversity, leadership and community service. In 1996, he started America & MOORE, LLC to provide comprehensive diversity, privilege and leadership training and workshops. He is recognized as one of the nation's top motivational speakers and educators and currently serves as director of The Privilege Institute (TPI) and The National White Privilege Conference (WPC), both founded under his direction to provide opportunities and possibilities for research, publications, speaking and collaborations by those committed to true social and institutional change.  
This year's Unity Week is themed "I AM POWER" and kicks off Monday, Feb. 19, with a campus-wide "Black Out" where students are encouraged to wear black as a sign of solidarity and unity with others. On Tuesday, students will participate in a Privilege Walk activity in the Student Union Great Room from 6:30 to 8:30 p.m. A Resource Fair,  designed to help students find the resources they need on campus in addressing issues or concerns they may be having, is slated for Wednesday at 2 p.m. in the Great Room. Friday is Unity Day when the university's RSCOs will host a celebration featuring cultural cuisine, activities and games in the Great Room beginning at 8 p.m.
Finally, on Tuesday, Feb. 27, Multicultural Student Services will host a Black History Month Luncheon from 11:30 a.m. to 1:30 p.m. in the Great Room.