Plan coordinates community response to sexual violence
Monday, June 11, 2018
By establishing a coordinated community response,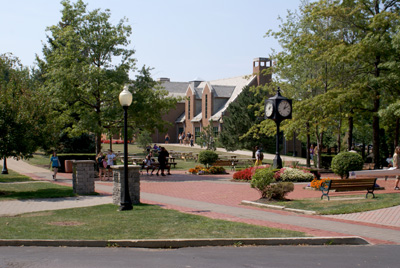 Mercyhurst University is applying the concept of "it takes a village" to a new plan aimed at combatting sexual assault, dating violence and stalking on campus.
Thanks to the $300,000 "It's On Us" grant from the U.S. Department of Justice, Mercyhurst has created an All-Campus Violence Prevention Project in collaboration with the Erie County District Attorney's Office, the Erie Police Department, Crime Victim Center and SafeNet.
"The key word here is 'comprehensive' in that we are working together as partners to create for our campus the best possible education and response to domestic violence, dating violence, sexual assault and stalking crimes," said Dr. Judy Smith, executive director of Wellness at Mercyhurst, who wrote the grant and serves as project director.
The first phase of the three-year grant, which began in October 2017, focuses on planning and training. The second phase, which will begin this fall, is implementation, while the third will concentrate on sustaining the project.
Mercyhurst, she noted, has long taken a proactive stance when it comes to sexual violence. For years, the university has maintained a Title IX officer, a position now held by Alice Agnew. Two years ago, the university earned a $30,000 grant from the Pennsylvania Department of Education to increase training in sexual assault awareness, prevention and response.
That initiative, Smith said, enabled Mercyhurst to lay the groundwork for the kind of comprehensive program that the latest DOJ grant facilitates.  Mercyhurst alumnae Ariel Dodick has been hired full time as project manager and Rianna Bartlett as part-time project coordinator.
"We are hoping that together with our partners we can build a program that will make a lasting difference in shifting the culture on college campuses, starting with our own," Smith said. "We are committed to keeping our students safe and in healthy relationships that respect both men and women."
The grant enables Mercyhurst to create a Coordinated Community Response Team (CCRT) with the goal of expanding victim services and advocacy, prevention education, and staff training at the Erie and North East campuses as well as the Booker T. Washington Center. Besides Smith, Agnew and Dodick, the team includes Paul Lukach, executive director for the Crime Victim Center;  SafeNet Executive Director Linda Lyons King; Mercyhurst Police Chief DJ Fuhrmann; Residence Life Director Megan McKenna; Amy Blackman, director of Prevention and Education for the Crime Victim Center; and Attorney Greg Grasinger with SafeNet.  The group also includes representatives from a number of Mercyhurst departments who are assisting with development and implementation of the plan.
The Crime Victim Center will augment Mercyhurst's efforts by providing access to support groups, accompanying victims through the legal system and helping with victim compensation. SafeNet will provide prevention education, particularly in how to sustain healthy relationships, shed light on the early warning signs of controlling behavior, and assist victims with Protection from Abuse orders.
To be effective, the groups closely align education and policy practices with Mercyhurst's Office of Police & Safety and local criminal justice organizations.
Mercyhurst also intends to create enhanced access to information on its internet portal that will help students more readily navigate channels in reporting incidents of sexual violence. Part of the grant addresses reaching underrepresented groups like the deaf, LGBTQ students, and students with more limited English language and different cultural perspectives.