Owen McCormick makes significant donation to Mercyhurst athletics
Tuesday, April 16, 2019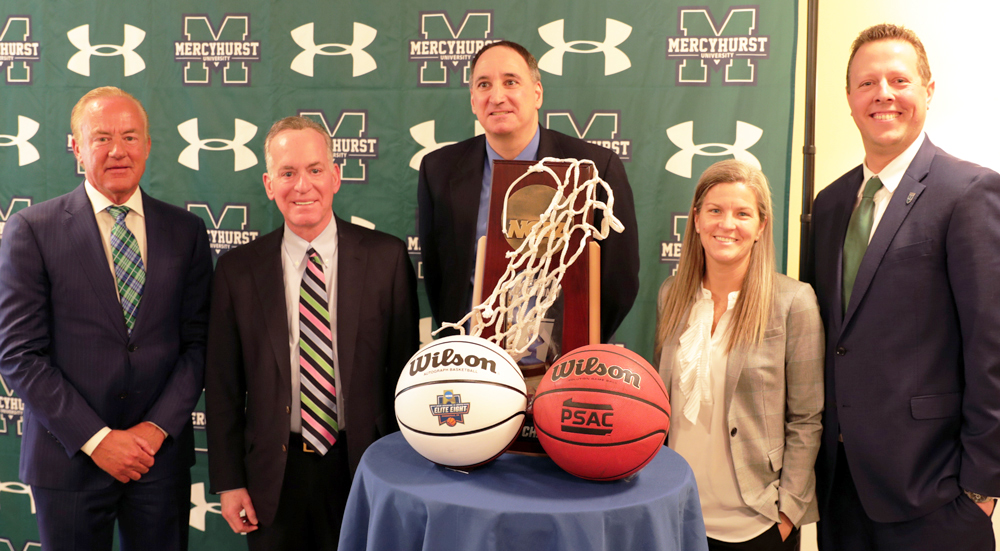 Erie businessman and philanthropist Owen J. McCormick has made a significant albeit undisclosed financial gift to Laker for Life – The Campaign for Mercyhurst Athletics, a $9.5 million fundraising initiative encompassing comprehensive upgrades across the university's athletics infrastructure. 
"I have known Owen McCormick as a businessman, a former Mercyhurst trustee, and personal friend for many years," said Mercyhurst President Michael T. Victor. "We are most grateful for his continued generosity toward Mercyhurst, the most recent of which will go a long way toward enhancing the overall athletic experience at the university."
A former high school basketball star at St. John Kanty Prep and owner of the Erie BayHawks, McCormick's passion for basketball is well known in the Erie community. As part of the athletics campaign, the university will completely overhaul its basketball facility in the Mercyhurst Athletic Center and rename it the Owen J. McCormick Basketball Court. 
Cal Pifer, vice president for external relations, said the basketball court is one of the many upgrades included in the university's athletics campaign, and that McCormick's contribution will go a long way toward creating a better environment for student-athletes and the many fans who support them.  
"I'm extremely grateful to Mercyhurst for all that it has done for generations of students and for the many ways in which it has contributed to the Erie community," McCormick said. "I'm particularly supportive of the great job that President (Michael) Victor is doing. I have a deep respect for him as a businessman and as a personal friend." 
McCormick also is known for creating the Jerry McCormick Strength & Conditioning Center at the Mercyhurst Ice Center, which was dedicated Jan. 27, 2011, in honor of his brother, who died tragically at the age of 24 in a 1985 car accident. 
McCormick is the President and CEO of Joseph McCormick Construction Company, Inc. He is active in many civic organizations, and is a 1981 graduate of the University of Notre Dame. 
Interested persons can visit the Mercyhurst website, Laker For Life – The Campaign for Mercyhurst Athletics, to learn more about the campaign and to donate. 
PHOTO: (L-R) Owen McCormick, President Michael Victor, Men's Basketball Coach Gary Manchel, new Women's Basketball Coach Brooklyn Kohlheim, and Athletic Director Brad Davis.