Olszowka named associate provost of graduate programming
Monday, June 03, 2019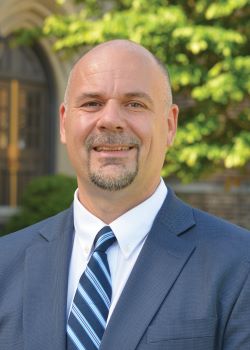 John Olszowka, Ph.D., a 14-year veteran of the Thomas B. Hagen History Department at Mercyhurst University, has been named associate provost of Graduate Programming & Strategic Academic Initiatives. 
Olszowka has worked extensively in helping to build and grow the history program as both a faculty member and, later, as department chair. In May 2018, Olszowka was appointed associate dean of the Hafenmaier College of Humanities, Arts and Social Sciences, a position he held for the past year until his current appointment. 
In making the appointment, Provost and Vice President for Academic Affairs Leanne Roberts, Ph.D., said, "This position will require extensive communication and leadership of initiatives that will span across many facets of the university. John has demonstrated a high degree of collegiality and leadership acumen that make him well suited to take on this important role."
Since arriving at Mercyhurst 2005, Olszowka has taught a variety of courses ranging from the Civil Rights Movement to the History of Sports in America. His specialty is 20th Century American social history, with an emphasis on issues of labor, ethnicity and race. 
As a faculty member, he served on an array of campus-wide committees including Academic Planning and Assessment and the CORE Curriculum Committee. In addition, he helped organize several campus-wide interdisciplinary academic symposiums exploring diverse topics such as civil rights, childhood education and The Great Depression. 
Olszowka earned his Bachelor of Arts degree in History from the State University of New York at Buffalo, his master's degree in History from Buffalo State College, and a doctoral degree in History from Binghamton University (SUNY). 
He has presented numerous papers at regional and national conferences exploring the role of organized labor in the aircraft industry. Among his publications are articles appearing in Labor History, examining unionization in the aircraft industry in the 1930s, and the anti-German movement in Buffalo, New York, during World War I.  Most recently, recently Olszowka co-authored America in the 1930s (Syracuse University Press), a book that originated out a collaborative course taught with two other Mercyhurst faculty. He has served as a peer reviewer for Labor History, Journal of American History, Labor and Working-Class History, and Women and Social Movements. 
Prior to his tenure at Mercyhurst, Olszowka worked at the University of Maine-Farmington, SUNY Geneseo, Lycoming College, and the Smithsonian Institution Air and Space Museum, where he was a graduate research fellow. 
He lives in Erie with his wife, Lisa, and their two sons, Evan and Eli.