NGA Director Cardillo plans daylong visit to Mercyhurst
Monday, October 22, 2018
Robert Cardillo, director of the National Geospatial-Intelligence Agency (NGA),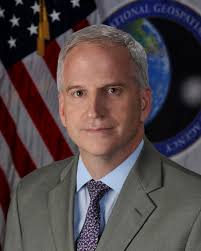 one of the nation's top five intelligence agencies, plans a daylong visit to Mercyhurst University on Friday, Oct. 26, as part of the agency's ongoing academic partnership with the university.
Cardillo has several meetings scheduled, including a session with intelligence studies and cyber security students, a tour of Mercyhurst's intel facilities, including its new MCPc Cyber Center, and a discussion with faculty and administrators.
As part of the visit, Cardillo will join Mercyhurst President Michael Victor and Ridge College Dean Duncan McGill in signing a new five-year Cooperative Research and Development Agreement (CRADA), continuing an ongoing relationship that began with the original five-year CRADA in 2013. The private-public partnership provides Mercyhurst's intelligence studies students with real-world experience in researching, analyzing and briefing on questions of interest to NGA's research needs.
"This agreement exemplifies the kind of first-rate, hands-on experience Mercyhurst promises its students as part of their studies," said Victor. "In this case, what could be more enlightening for intelligence studies students than to effectively apply analytic rigor in answering complex questions posed by one of the nation's top national security agencies?"
Last year, the NGA asked a team from Mercyhurst to develop an algorithm for uncovering Russian trolls on Twitter, McGill explained. As information warfare becomes more common, agents (or trolls as they have been termed) of various governments are manipulating social media, attempting to change the narrative and influence people's thinking. The students' work helped to identify propaganda-spewing trolls separate from regular internet users.
At the conclusion of their research, students typically travel to NGA headquarters in Springfield, Virginia, to brief senior leadership, including Cardillo. Not long ago, he heard Mercyhurst students present on the potential impact that food and water scarcity in Southern African could have on political stability in the region, and strategic options that Chinese leadership could take in several territorial disputes, including the South China Sea, East China Sea and Sino-Indo border region.
In response, Cardillo said, "As exciting as the profession has been, tomorrow is even better. We need talent and passion as we've seen this morning."