New students begin college careers with 'Day of Service'
Wednesday, August 22, 2018
More than 700 new Mercyhurst University students and Laker Leaders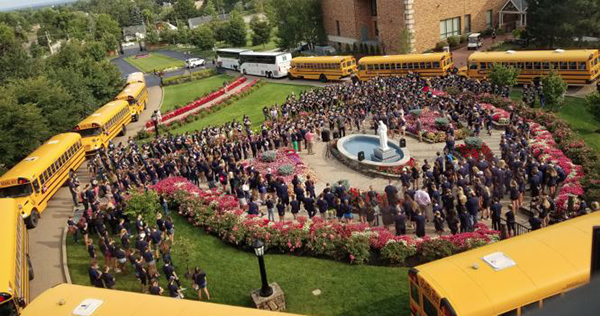 unleashed their ranks upon Erie County to deliver more than 2,000 hours of community service on Monday, Aug. 20. Students gathered at 9:30 a.m. in the Mary Garden in front of campus, where they heard a prayer offered by university chaplain Father Jim Piszker and a send-off message from President Michael Victor.
"Most sisters take a vow of poverty, chastity and obedience," Victor said. "All Sisters of Mercy take a fourth vow, a vow of service. We try to instill that in our students … We want the freshmen to understand how important it is by dedicating an entire day to it. We want them to know there is life beyond our gates. The gates are there, but they are not a permanent barrier. We want them to understand there is poverty out there and they need to be mindful of those needs."
From there, students boarded 15 buses and departed for 22 different sites across Erie County, where they painted, cleaned properties inside and out, renovated a house intended for a former homeless family, taught seniors the latest in social technology and visited those in need.
The annual Day of Service is one of Mercyhurst's most unforgettable student traditions, said Bethany Brun, who coordinates the yearly event. The tradition is the first shared experience for new Lakers. The service experience is also a tradition on the North East campus, where the new Saints deliver a day of service in the surrounding North East community.
"Day of Service is the one activity that unifies the entire student body. Despite their different majors or activities, every single new student completes Day of Service," said Brun. "It helps them gain a better understanding of the larger community outside of campus."