New MNE program seeks to empower single mothers
Friday, February 23, 2018
Plans are in the works for a summer launch of a new mission-driven project on the campus of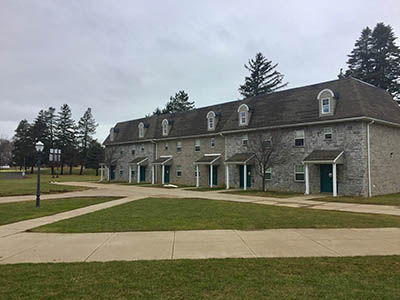 Mercyhurst North East: the Women with Children Program, which is designed to empower economically challenged single mothers by providing the opportunity to complete a college degree and create brighter futures for themselves and for their children.
In the past decade, the number of single mothers in college has doubled. Today, close to one in five women on college campuses are single moms. But research indicates most of these women won't graduate, according to Jackie Fink, director of administrative services at MNE, who along with Sister Joanne Courneen, RSM, is organizing the project.
Consistent with the mission of the Sisters of Mercy to serve the underserved, Mercyhurst believes there is a serious need in the region for this kind of initiative. "We've had students who have had to leave because they were not able to manage," said Sister Joanne of single mothers working toward a college degree, "and we want to help them." 
Mercyhurst University President Michael Victor announced the program to the university's internal audience in a letter last week, noting, "We intend to start small, five families at first. The women must be admitted to MNE through the regular admissions process and be at or near the poverty level with no more than two children, ages 2 to 10. We intend to retrofit townhouses #9-14 at the northwest end of the MNE campus, where we will also fence in a nice-sized playground for the children. We believe this community within a community will also provide the social and emotional support that these young families seek."
The program is expected to be operational by July, just in time for the fall semester. One of only 10 such programs in the United States, the WWC program removes many of the roadblocks that may have stifled single mothers' previous attempts at an education by providing on-campus housing, academic and financial support, family enrichment programming, career services, on-campus counseling and a safe and secure environment.
Inquiries should be made to Jackie Fink at jfink@mercyhurst.edu; 814-725-6399. More information will be available in the coming weeks.