New juried exhibit at Cummings Gallery reveals what's trending in collage
Friday, October 18, 2019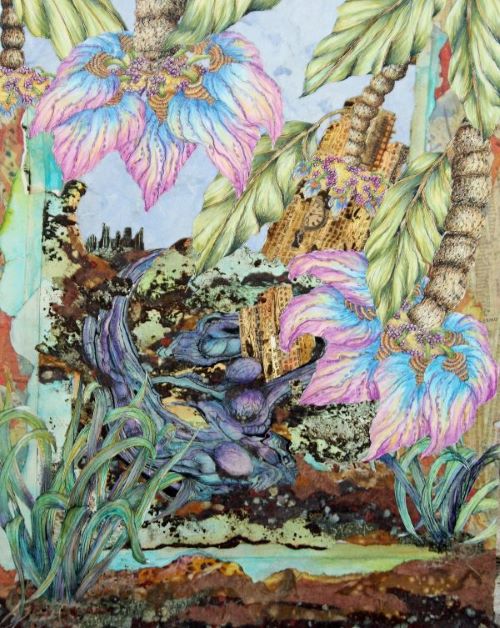 The National Collage Society's 35th Annual Juried Exhibit – on display Nov. 4 through Dec. 7 at Mercyhurst University's Cummings Gallery – provides a colorful and dynamic look at what is trending in collage today.
Several of the featured artists are expected to attend the artists' reception on Thursday, Nov. 7, from 5 to 7 p.m. Awards judge Daniel Burke, a professor of art at Mercyhurst, will announce close to a dozen awards of cash and art supplies during the reception, which will also feature refreshments and a Celtic harp performance by Ellen Putnam Paquette.
The National Collage Society Inc. is an art foundation formed to promote the advancement of collage as a major art medium. 
NCS jurors reviewed 373 entries from 37 states and two countries before choosing 55 works for this exhibit. The jury panel included Janet Maher, professor emeritus of art at Loyola University, Baltimore, Maryland; Chuck Scalin, professor emeritus and former assistant chair of the Communication Arts + Design Department at Virginia Commonwealth University, Richmond, Virginia; and Anderson Turner, director of the School of Art Collection & Galleries at Kent State University, and manager of the NCS Signature Members Permanent Teaching Collection, Kent, Ohio.
Turner wrote of the panel's selections, "The National Collage Society's 2019 Juried Exhibit is an excellent look at artists from around the United States who work in collage. The subject matter varies from the surreal to the political and from the abstract to whimsical, but what unites this exhibit is a universal love for material and the process of discovering innovative ways to share information and imagery through the medium of collage."
Works chosen for the exhibit illustrate the broad and evolving art form of collage:
"How to Build a Proper Suburb" by Norman Mallard is an assemblage of found objects. Turner said, "It's easy to see this work at first glance as something fantastical. While it certainly is this on a level, it also depicts the concrete, applied ideas one might consider when might setting out to plan a suburb and tells an effective story that engages the viewer more, the more you look at it."
Cheryl Goldberg's "All American Greed" is a thoughtfully assembled reinterpretation of the American flag. It features a quote from Tertullian (an Early Christian author, c200AD) on the white stripes: "He who lives to benefit himself confers on the world a benefit when he dies."
"Aphasia," by Melinda Fine, is a beautiful and movement-filled composition that features birds that are seemingly trying to fly out of a mass made up of human hands and arms, spines, bones, as well as eel-like creatures, seahorses and some other type of bird.
"Plain Sailing Weather," an assemblage by Gwen Waight, was made by scavenging items from the Great Lakes, including beach finds such as discarded plastic, mirrors, sail, wood, old hardware, and candy wrappers.
Works by Mercyhurst art alumni Larry Walczak '74 and Will Ursprung '76 and interior architecture and design graduate Christian Johnson '18 are also included in the show. Ursprung, a visually impaired artist, noted, "Like jazz, collage is very spontaneous and intuitive for me. From the first time I encountered collage, I took to it immediately. With my limited vision, I find that it's one of the most approachable forms; it's three-dimensional, it's visual, and it's still unique."
The 35th Annual Juried Exhibit will be viewable online at nationalcollage.com, and a printed catalogue will accompany the exhibit. Cummings Gallery, located in the lobby of Mercyhurst's Mary D'Angelo Performing Arts Center, is open weekdays from 11 a.m. to 5 p.m. and Saturdays from noon to 3 p.m.; closed Sundays. The gallery will also be closed Nov. 27-Dec. 1 during Mercyhurst's Thanksgiving break. 
For information, contact gallery director Jessica Stadtmueller at 814-824-2092 or jstadtmueller@mercyhurst.edu.
PHOTO:
Artist: Jean Griffin
"When the Waters Recede the Pods will Survive"
90 lb. watercolor paper, watercolor pencils, acrylic paint, various papers
H 20in x W 15in