New exhibit features works by Sister Angelica Cummings
Thursday, May 17, 2018
Mercyhurst University this summer unveils a retrospective exhibit of more than 40 works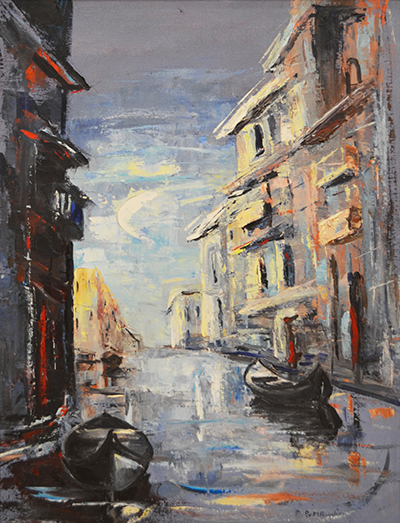 by Sister Angelica Cummings, the acclaimed artist who launched Mercyhurst's fine arts program when the college opened in 1926 and led it for nearly 50 years.
The works will fill Cummings Gallery from May 21 through Aug. 9. The Mercyhurst gallery, now located in the lobby of the Mary D'Angelo Performing Arts Center, was dedicated in Sister Angelica's honor shortly before her death in 1984.
Many of the works on display are part of Mercyhurst's permanent art collection, while others are on loan from the Sisters of Mercy, Mercyhurst faculty, staff and alumni, art collectors, and the Cummings family.
Gallery Director Jessica Stadtmueller, who assembled and hung the show, describes what viewers will find:
This summer, the community will be excited to see the variety of Sister Angelica's paintings on canvas, all representing Sister's signature style of abstraction, which favored the use of the palette knife rather than the brush in order to define shapes and blocks of color. Bold, contrasting colors and active lines are found in these works, many of which are large and commanding. While the themes may vary, her use of color and palette is unified throughout her body of work.
Some were created during retreats in Italy, several of which have gondolas as a common thread. Many illustrate Biblical themes, such as the Last Supper, the Annunciation or the Assumption. Six of these pieces were generously loaned to the gallery from the Sisters of Mercy Motherhouse.
In addition to her works on canvas, the gallery displays about a dozen watercolors on paper portraying secular scenes. These quiet studies are mostly small farmhouses and barns in rural settings, nestled in wooded pines or rolling farmlands. Two watercolors stand out for their unique theme. A bustling small town main street observes people rushing through the rain into storefronts and huddling under umbrellas. Another unique watercolor study, shared by Betsy Frank, was likely created during one of Sister Angelica's visits to Ireland, and illustrates a single, elegant stone turret from an Irish castle.
Two standout works of the show are on loan courtesy of Professor Daniel Burke, Sister Angelica's protégé, and are the only dry media on exhibit. Two beautiful figure studies are the only drawings, and nudes, in the show. They were created while Sister Angelica studied at the Art Students League in New York City. These pieces demonstrate her proficiency in figure drawing through line, weight, anatomy and gesture. If you look closely, the development of the drawing is evident through ghosted areas, where Sister repeatedly erased to correct and perfect her placement of lines.
Even if you have previously seen these works, whether in the soft lighting of the Motherhouse, the intimate alcove or hallways of Mercyhurst, or even in your own living room, viewing Sister Angelica's art in the Gallery is an entirely new experience. The gallery lighting illuminates the colors to be richer, making the details clearer, and the texture more evident. The spacious room grants the viewer more visual space to step back and receive an entirely new perception of these works from various viewpoints. Placing similar works in groups will complete the story of her art-making process, while fleshing out a picture of who Sister Angelica was as an individual, an artist, a Sister, and a woman. All are encouraged to come to the gallery during our summer hours to take a break from the heat and activity, and to quietly contemplate her healing art.
Cummings Gallery is open during the summer Monday through Thursday from 10 a.m. to 3 p.m. (closed on Memorial Day and July 4).  An opening reception will be held Thursday, May 24, from 5 to 7 p.m. All are welcome to celebrate Sister Angelica's art while enjoying Italian hors d'oeuvres and the sounds of Celtic harpist Ellen Paquette. For information, contact gallery director Jessica Stadtmueller, jstadtmueller@mercyhurst.edu, 814-824-2092.
PHOTO: Untitled Venice Scene, oil on canvas, from the Collection of the Brian Cummings Family, Pittsburgh, Pennsylvania. Circa 1950s-1960s.