MNE shares career program vision with Rep. Thompson
Monday, January 15, 2018
The importance of access to quality postsecondary education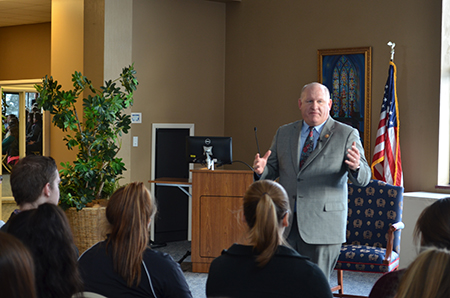 has been a part of Mercyhurst North East since its inception in 1991. Advocating for career and technical education has also been a priority of Glenn "GT" Thompson (R-PA) since his election in 2009 to represent the 5th district of Pennsylvania in the U.S. Congress.
That shared vision for quality education and training opportunities will be on the agenda Thursday, Jan. 25, as Thompson spends the afternoon at Mercyhurst North East (MNE).
"As the co-chair of the Congressional Career and Technical Education Caucus, we are excited to welcome Congressman Thompson to campus to show him the work we do to focus on vocational training and retraining for Erie and the regional job market," said MNE Vice President David Hyland. "In addition, we are eager to show him how we put federal funding via the Perkins Act toward advancing that cause."
Recently, a bipartisan coalition of 237 members of the House of Representatives sent a letter to the leaders of Senate Health, Education, Labor and Pensions Committee urging them to act on Perkins reauthorization. In June, the House unanimously passed H.R. 2353, the Strengthening Career and Technical Education for the 21st Century Act, introduced by Congressman Thompson and Raja Krishnamoorthi (D-IL), which would reauthorize the Perkins Act. However, the Senate has yet to act on a Perkins bill that would make important improvements to the federal system of support for career and technical education.
Hyland said MNE students benefit enormously from the Perkins Act, and Thompson will have the opportunity to hear from some of them at a Q & A session at 2:30 p.m. at the Ridge Library Great Room. As an example, Hyland cited last year's acquisition of new computers that provide for anatomy instruction in 3D to students in its biology and allied health programs, the result of a Perkins grant.
Besides visiting with students, Hyland said he hopes to familiarize Thompson with faculty and curriculum programs in culinary arts, municipal police training academy, medical lab technician, occupational therapy assistant, physical therapist assistant, practical nursing, respiratory therapist and more. 
"We are excited to showcase the hidden gem that is Mercyhurst North East," Hyland said. "While there are 85 community and junior colleges and proprietary schools within 100 miles of Erie, Pa., it's clear Mercyhurst North East stands out for its mission, size, comprehensiveness and history – that is a story we are eager to share with the congressman."
FILE PHOTO: 2016 Visit to Mercyhurst Erie campus