MNE honors faculty, staff for outstanding contributions
Thursday, May 16, 2019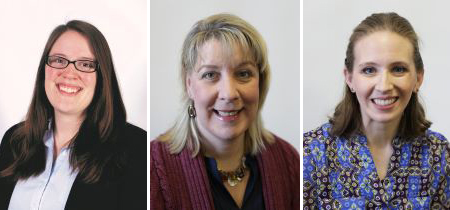 The Mercyhurst North East Staff Member of the Year Award was recently given to Jeanette Long, Writing Center and Peer Tutoring Coordinator, for demonstrating willingness to fulfill job-related responsibilities in light of the Mercy values and making a conscious effort at improving her area, and the university at large. Though Long has only been at the university a single year, she exponentially increased the number of students utilizing the tutoring center and taught several classes at the Booker T. Washington Center. Her commitment to students is tireless as evidenced by a nearly constant stream of students into her office seeking help with their classes.
The MNE Commitment to Mission Award was recently given to Laurie Baker, Academic Success Counselor, for consistently making a positive impact within her department and beyond the Mercyhurst Gates. Baker began her MNE career as an adjunct instructor, moving to full time work in the ASC. She is a Mercy Emissary and is committed to social justice issues. She is compassionate with students and believes in showing them mercy when they can often be their own worst enemy. She is on the student emergency committee and is a founding member and volunteer with the Grapevine Time Exchange, a program in North East that is based on supporting people as assets to their community and respecting that everyone has something to offer others. 
The MNE Teaching Excellence Award was recently given to Jessica Spanogle, program director and instructor of business, to honor excellence in all aspects of teaching, including advising, mentoring, and engaging students in their learning. With the dual difficulty of teaching challenging subject material, and having students who may have trouble engaging with such material, Spanogle works diligently to ensure that students are given every avenue to succeed. As someone who is willing to work one-on-one with students, she has reached out and assisted many students who would have otherwise been left behind. She uses a combination of current events, videos, news stories, personal experiences, and the textbook to make each day in her classes different and interesting. She also works well with other departments to ensure that students are successful.
PHOTO: From left to right: Jeanette Long, Laurie Baker, and Jessica Spanogle