MNE dining hall undergoes $1 million renovation
Tuesday, July 17, 2018
First it was the student union in 2017 –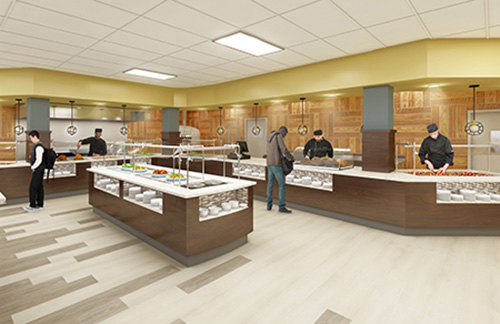 a major renovation with an innovative design that elicited praise from the Mercyhurst North East community and beyond. Now, just down the hall, another makeover is underway; this one, a complete gutting and redesign of the MNE dining hall.
"College students want good food, good value and they want to be comfortable," said Mercyhurst University President Michael Victor. "Our front-of-the-house design, food preparation and exciting new menu items accomplish all of this."
Like the once dreary union, devoid of color and pizazz, the cafeteria is showing its age – 30 years and visibly weary. The new project is a much-needed and anticipated addition, said MNE Vice President David Hyland.
"It's definitely a continuation of the innovation and updating we embarked on last year, which yielded the new student union and student services area," he said. "The cafeteria is right down the hall from the union, so this is another anchor in a space where we find a lot of our students gathering. We expect they'll be pleasantly surprised."
And here's what they'll find when the fall semester commences in August:  
Total redesign of the dining space with new walls, ceiling and flooring
LED lighting throughout
New furniture
New food stations
A stone pizza oven
A rotisserie oven at the grill station
Expanded deli service, and more.
The renovations, earmarked at just over a million dollars, are financed through a partnership between Mercyhurst University and food service provider Parkhurst Dining. Design work was completed by Evan Felps of Ashland Equipment, which does much of Parkhurst's work; local contractor is BSI. Mercyhurst University Vice President for Finance and Administration David Myron is overseeing the operation.
"Parkhurst is proud to continue to partner with Mercyhurst University to make the student dining experience a memorable part of students' college lives," said Dean Schoenfeldt, senior general manager of Parkhurst at Mercyhurst, who like Myron was instrumental in the renovations that created the new Grotto Commons dining hall on the Erie campus two years ago.