Mercyhurst's Nuutinen seeks Olympic medal for Finland
Friday, January 26, 2018
Being named to Finland's women's ice hockey team for the 2018 Olympic Games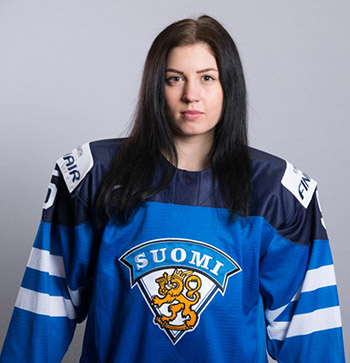 is a mixed bag for Mercyhurst University forward Emma Nuutinen. She's honored and excited to make the team, but disappointed that fellow Laker Vilma Tanskanen, her best friend since childhood, won't be joining her. 
The women, who grew up in Vantaa, Finland, played together in the 2014 Olympics in Sochi, and both competed for a spot in next month's Winter Games in Pyeongchang, South Korea. Nuutinen was one of 23 women to make the roster; Tanskanen was named first alternate, meaning that if any rostered player were to be injured before the Games, Tanskanen would be the first summoned. 
Despite the fact that Nuutinen will be heading to Pyeongchang alone, she feels she's better prepared physically and mentally this year than she was four years ago, when she was only 17. 
"Finland's women's hockey has taken big steps ahead in the past couple of years," she said. "Competition to earn a spot for the Olympic team this year was very difficult and it demanded improving my speed on the ice. I worked a lot with my weaknesses and I'm happy that it paid off. I'm definitely a better player now than I was in 2014."
Nuutinen and Tanskanen came to Mercyhurst this academic year from the University of North Dakota, which eliminated its women's ice hockey program as part of budget cuts. Both are doing extremely well for the Lakers, who (1/23/2018) are in first place in College Hockey America.
"Emma and Vilma have been great additions to our program and have improved tremendously since arriving in August," said Mercyhurst women's coach Mike Sisti. "I think Emma is playing the best hockey of her life and her hard work has paid off. To be going to her second Olympic Games at such a young age is an awesome accomplishment. We wish her the best of luck in her quest for a medal."
Nuutinen, meanwhile, said, "I'm more than happy that I found a new home at Mercyhurst. I made the decision to come here after my visit. I loved how small and pretty the campus was and everyone I met was very nice and friendly to me."
Making the transition with Tanskanen made adjusting to her new environment easier. Plus, Nuutinen said she's found a good friend in fellow Laker Alexa Vasko, who is "teaching me to pronounce all the difficult English words." 
The oldest of Tapio and Päivi Nuutinen's five children, Nuutinen hopes to graduate with degrees in marketing and sport business, but said she's not sure what career path she'll pursue. "I don't know yet what I want to do after college but with those degrees I believe I could find a career I would love to work in someday," she said.
But for now, it's all hockey.
(Team Finland bio not yet available. See this version at Eliteprospects.)