Mercyhurst welcomes veterans to annual expo
Wednesday, March 06, 2019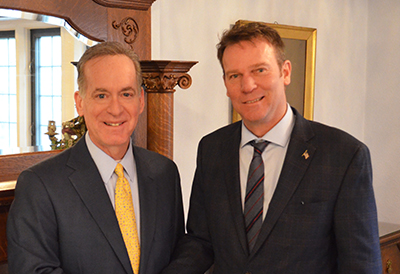 Mercyhurst University will welcome veterans and their families to the 2019 Veterans Resource and Job Expo on Thursday, April 18, hosted by State Sen. Dan Laughlin in partnership with U.S. Sen. Pat Toomey.
The free expo, designed to connect veterans and their families with valuable community resources, will be housed at the Mercyhurst Athletic Center from 1 to 3 p.m.
As in past years, the Erie County Vietnam Veterans Memorial group, headed by Ken Kensill, is also partnering with Sen. Laughlin on the event. The group raises funds to maintain the war memorials in Veterans Park on Glenwood Park Avenue in Erie.  
Mercyhurst President Michael Victor said the university is pleased to host this year's event, a timely honor having just been named a Purple Heart University in November 2018. Mercyhurst is only the second such designee in the state, recognized for providing services for veterans, especially those who were wounded in combat while serving our country.
"We have always been a veteran-friendly university, and we take pride in demonstrating that commitment at every opportunity," Victor said. "We hope as many area veterans as possible will take advantage of this year's expo."
Laughlin said, "There will be a number of great services, programs, and businesses at the expo, all of which provide great opportunities to our local veterans. The expo is open to all veterans, regardless of their branch of service or when they served. We appreciate their service and I encourage them to stop by to see all of the benefits and services – from education to health care and housing – that are out there for them."
The expo will also feature Laughlin's special guest, State Adjutant General (Major General) Anthony Carrelli.  Carrelli is responsible for the command, control and supervision of Pennsylvania's Army and Air National Guard units, six state-owned veterans homes, and a variety of programs for Pennsylvania's 800,000 veterans.  The expo will provide a unique opportunity for residents to meet the general.