Mercyhurst welcomes guest lecturer for National Anthropology Day
Tuesday, February 18, 2020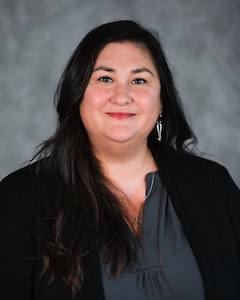 Dr. Brooke Persons, director of the Jeffrey L. Brown Institute, a nonprofit archaeological research institute at the University of Tennessee at Chattanooga, will deliver two talks at Mercyhurst on Thursday, Feb. 20, in observance of National Anthropology Day.
At 10 a.m. in Zurn 207, Persons will speak to interested members of the Mercyhurst community about "The Anthropology of Archaeology and Interpreting Culture."  She will highlight lessons learned about crafting a career in anthropological archaeology, the challenges of collaborating across cultural divides, and working toward a 4-field approach in her own research in the Caribbean and American Southeast.
Then at 7 p.m. in Zurn 114, Persons will deliver a free, public presentation on "You Are What You Wear: Personal Adornment and Social Complexity in Ceramic Age Cuba." She'll discuss the different ways in which ritual and ceremony are defined in prehistoric communities in Cuba, using recent iconographic studies to address whether items of personal adornment are used to legitimize political authority in the prehistoric Caribbean.
A pre-lecture tour of the Department of Anthropology/Archaeology will also be offered; anyone interested should meet in the Zurn Hall lobby at 6 p.m. For more information, contact Dr. Ruth Jolie at rjolie@mercyhurst.edu.
About Dr. Persons:
Dr. Persons is an anthropological archaeologist, professor, and director of the Jeffrey L. Brown Institute of Archaeology (JBIA), a non-profit research institute at the University of Tennessee at Chattanooga. She received both an M.A. and Ph.D. in Anthropology from the University of Alabama and previously served for two years as the Senior Territorial Archaeologist for the Virgin Islands State Historic Preservation Office. In addition, she has worked in both the public and private sectors as an archaeological consultant. Her experience includes archaeological survey, testing and evaluation, and cultural resources recovery of both prehistoric and historic sites, with a focus on heritage management, ceramic analyses, settlement pattern analysis, and the application of Geographic Information Systems in archaeology.