Mercyhurst University to graduate 904 this weekend
Friday, May 04, 2018
A total of 710 students – 566 baccalaureate degree candidates and 144 master's degree candidates –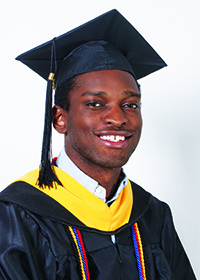 will graduate from Mercyhurst University at 2 p.m. on Sunday, May 13, at the Erie Insurance Arena. Mercyhurst North East celebrates 194 graduates from its associate degree programs on Saturday, May 12, at 3 p.m., at Ligouri Fieldhouse.
Mercyhurst University President Michael T. Victor will preside over the Erie campus graduation ceremonies, welcoming Erie native Vice Admiral Matthew Kohler, Commander of U.S. Naval Information Forces and the incoming Director of Naval Intelligence, as the 2018 commencement speaker. Trustee Chair Richard A. Lanzillo will provide the traditional charge from the board while Erie Bishop Lawrence Persico will offer the benediction.
Jonah Jackson, recipient of the university's Carpe Diem Award for 2018, will be the student speaker. The Carpe Diem Award is presented to the senior who has made the most positive impact on the life of the Mercyhurst community and who best exemplifies the university motto, "Carpe Diem" - "Seize the Opportunity." A political science major, Jackson was this year's Student Government President.
Jenna Uhlig, who majored in mathematics and physics, will receive the Bishop's Award for Academic Excellence. Other top senior awards will go to Cole Lowe (the Sister Carolyn Herrmann Service Award); Lynne Gillott (the Frank Barry Leadership Award); and Sydney Van Leeuwen (the Mother Borgia Egan Honors Award). Two adult undergraduate students will also receive top awards. Audra Alexander will receive the Catherine McAuley Adult Student Award, while Jason Shaffer will receive the President's Award for Adult Excellence.    
Seniors chosen to receive the President's Award for Excellence by Mercyhurst's colleges are: Caitlin Nalipa and Natalie Koons (Hafenmaier College of Humanities, Arts and Social Sciences); Abigail Rose and Yedzin Tobgay (Ridge College of Intelligence Studies and Applied Sciences); Saioa Gomez and Jonas Weller (Walker College of Business); Carmelo Cimato and Molly Mills (Zurn College of Natural and Health Sciences).
At Mercyhurst North East, the Class of 2018 includes 47 graduates who came to MNE as displaced workers following layoffs at GE Transportation and other local employers. They attended MNE through the TAA Program, a federally-funded, job-retraining initiative.
Mercyhurst University Provost and Executive Vice President Dr. David Dausey will be the commencement speaker. Tiffany Kephart, a business administration major, who will receive the Medal of Honor, will also present remarks.
Jason Derry, an adult student in the ASN program, will receive the Robert S. Miller Award, and the Redemptorist Fathers Award goes to Katelyn Wiler, a business administration major. Damaris Rivera will receive the Letoinne Barnett Memorial Award, given to a graduate of the Booker T. Washington Campus who most exemplifies the "Carpe Diem Spirit" exhibited by Barnett. Chosen to receive program awards are Alexandra Olszewski, biology; Beth Seymour, business administration; Erin Snyder, computer systems support; Morgan Hammer, criminal justice; George Gilkey III, culinary arts and hospitality management; Justine Trevino, early childhood education; Donavan Brown, health studies; Maggie Pourrajabi, liberal arts; George Ben Custard, medical laboratory technician; Jeanine Duda, associate of science in nursing; Randy Post, occupational therapy assistant; Jamie Daugherty, physical therapist assistant; and Stephanie Bell, respiratory therapist.