Mercyhurst University Cabinet to welcome new citizens
Monday, November 26, 2018
Mercyhurst University President Michael T. Victor and members of his Cabinet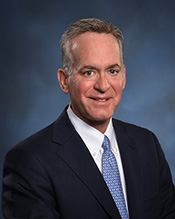 will welcome new United States citizens and host a reception in their honor following naturalization ceremonies at the Federal Courthouse on Friday, Dec. 7.
Each year, the Cabinet completes a service project around the holidays; for the past three years, they have served Thanksgiving Dinner at Emmaus Soup Kitchen. This year, in keeping with the university's commitment to inclusiveness and respect for all people, the Cabinet elected to celebrate Erie's newest citizens.
"We are the lucky ones to be born in the United States," said Victor of himself and his Cabinet. "What we were given as a birthright, these new citizens have had to struggle to achieve. They are the strong ones and we are honored to celebrate their achievement and to welcome them as our fellow Americans."
In hosting new friends, the Cabinet will also be catching up with an old one. Former Trustee Chair Richard A. Lanzillo, who recently was named U.S. Magistrate Judge, is expected to preside over the citizenship rite. Lanzillo and Victor will be among several other community leaders to offer congratulatory remarks.