Mercyhurst Theatre stages regional premiere of 'Women on the Verge of a Nervous Breakdown'
Monday, October 08, 2018
Gazpacho, anyone? The Mercyhurst Theatre Program presents the regional premiere of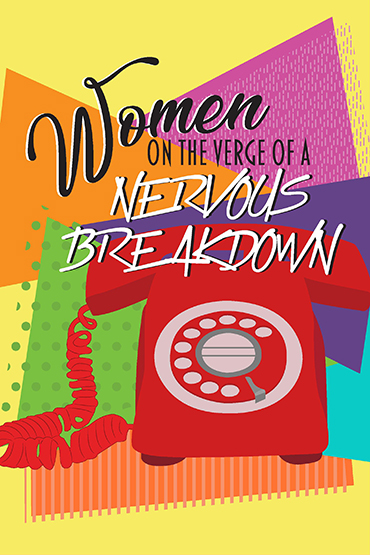 Women on the Verge of a Nervous Breakdown, a musical adaptation of Pedro Almodóvar's beloved film of the same name, featuring a book by Jeffrey Lane and a score by David Yazbek, the Tony Award-winning composer of The Band's Visit. 
Both touching and hilarious, Women on the Verge is a story about women and the men who pursue them... finding them, losing them, needing them and rejecting them. At the center is Pepa, whose friends and lovers are blazing a trail through 1980s Madrid. Along with Pepa, there's her missing (possibly philandering) lover, Ivan; his ex-wife of questionable sanity, Lucía; their son, Carlos; Pepa's friend, Candela, and her terrorist boyfriend; a power-suited lawyer; and a taxi driver who dispenses tissues, mints and advice in equal proportion. Mayhem and comic madness abound, balanced by the empathy and heart that are trademarks of Almodóvar's work.
The cast of Women on the Verge includes Alexis Webb (Pepa), Jacob Tretinik (Iván), Abby Larimore (Lucía), Owen Hitt (Carlos), Erin Fink (Marisa), Rosie Pregler (Candela), Grace Sloop (Paulina), Aidan Giles (Taxi Driver), Monica Tinsley (Pepa's Concierge), Tessa Sayre (Iván's Concierge), Jenna Rosciszewski (Cristina), Nina Hollopeter (Rosalia), Ella Santillano (Doctor), Chance Wandler (Malik), Jillian Johannes (Chief Inspector), Jonathon Clarke (Detective), Jon Reddinger (Ambite), Justice Alleruzzo (Security Guard), Alexandra Newton (Magistrate #1), Abby Whitman (Magistrate #2), Michaela Hershey (Magistrate #3), Emily Black (Young Lucía) and Dominic Fortunato (Young Iván/Telephone Repairman).
The production team includes scenic designer Tucker Topel, lighting designer Madeleine Steineck, musical director Andrew Rainbow, choreographer Jennie Cross, production stage manager Rebecca Holt and assistant stage managers Natalie Gottfried, Rachele Heasley and Darby Shafron.
Performances are Thursday through Saturday, Oct. 25-27, at 7:30 p.m., and Sunday, Oct. 28, at 2 p.m. in Taylor Little Theatre on the Mercyhurst campus.
Single tickets are $15 for adults; $10 for senior citizens/students and $5 for youth and Mercyhurst students with I.D. All performances are general admission, with doors opening 30 minutes prior to curtain.
Patrons can reserve their tickets online at miac.mercyhurst.edu, by phone at 814-824-3000 or at the Mary D'Angelo Performing Arts Center box office. Tickets will also be on sale at Taylor Little Theatre beginning one hour before curtain.
Please note: This production contains strong language and adult themes and is recommended for mature audiences.
For more information, visit miac.mercyhurst.edu.